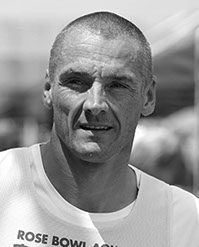 Nicolas Granger (FRA)
Honor Masters Swimmer (2016)
The information on this page was written the year of their induction.
INTERNATIONAL HIGHLIGHTS (SWIMMER): World Points-781, Pre 1986 Points- 0, Total Points-781; Since 1993, he has competed in 5 age groups (25-29 through 45-49). 25 FINA MASTERS WORLD RECORDS
Nicolas Granger began competitive swimming as a six year old and has been competing ever since. He was an outstanding age group swimmer and joined the French National Team as a sixteen year old in 1983. Ten years later, while still a member of the National Team he entered his first Masters meet in the 25-29 age group. He finished the year in the Masters World Top Ten and has made the list every year since.
He has competed in six FINA World Masters Championships, beginning in 1994, and has won a total of 23 Championship gold medals and six silver. As a versatile swimmer, he has set 29 FINA Masters World Records, 17 long course and 12 short course, in the freestyle, breaststroke, backstroke and I.M.
In addition, he has set or broken 55 European Masters records, and 110 French Masters records. Swimming in the United States since 2015, he also has broken five US National Masters Records.
Beginning with world rankings in 1994, he has had 37-number one, 14-number two, and nine-number three long course rankings and 33-number one, 16-number two, and two-number three short course meters rankings for a total of 70-number one, 30-number two, and 11- number three world rankings.
Nicolas is very proud of the fact that he has been his own coach since 1989. He was also the Coach of the French Junior and A team from 1993 through 1995.
In 1991 and again in 2003, Nicolas was diagnosed was testicular cancer. He says he was able to beat his cancer, not once, but twice, due to practice, his routine and to his healthy lifestyle over the last 42 years. In a nutshell: to SWIMMING.