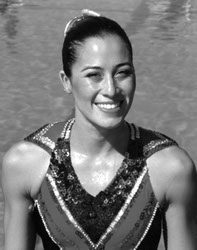 Nathalie Schneyder (USA)
Honor Synchronized / Artistic Swimmer (2013)
The information on this page was written the year of their induction.
FOR THE RECORD: 1996 OLYMPIC GAMES: gold (team); 1991 WORLD CHAMPIONSHIP: gold (team); 1994 WORLD CHAMPIONSHIP: gold (team); 1989, 1991, 1993, 1995 FINA WORLD CUP: gold (team); 1991 PAN PACIFIC CHAMPIONSHIPS: gold (team); 1988, 1992 SWISS OPEN: gold (team); 1991 ROME OPEN: gold (team); 1993 CHINA OPEN: silver (duet); 1994 FRENCH OPEN: gold (team); 1992 U.S. NATIONALS: gold (team), 4th (solo); 1993 U.S. NATIONALS: silver (team), bronze (duet), 5th (solo); 1994 U.S. NATIONALS: silver (team), 4th (duet) 6th (solo); 1995 U.S. NATIONALS: silver (team), bronze (solo).
When Nathalie fell into the swimming pool at the age of four and almost drowned, her mother decided she needed swimming lessons to keep her safe. Within four years, she was competing in synchro as a member of the Walnut Creek Synchronized Swimming Team.
Like in any sport, a number of coaches helped her along the way. Linda Kreiger started her synchronized swimming career; Betty Hazel coached her when she was twelve; Joan Marie Vanaski was her junior team coach who taught her to dance; Hall of Famer Gail Johnson Pucci brought her from the junior team to the club's "A" team, developing her creativity; Lynn Virglio provided most of the 3,000 to 6,000 yards training before they started synchro training each day; Karen Babb worked tirelessly to get her figures up to par; and Chris Carver, National Team Coach gave her the final touch. But it was Hall of Fame coach Gail Emery who served as her club coach and developed her into the Olympic champion she would become.
As member of the United States National Team for nine years, she and her team rarely missed the top of the podium, winning five FINA World Cups and two FINA World Championships. Winning the 1994 French Open Team Championship in front of her family was special to Nathalie, because her mom and dad had both emigrated from France to the USA. At the Atlanta 1996 Olympic Games, Nathalie reached every athlete' s dream when she helped the USA win the gold medal with a perfect score of "10 " in the freestyle event. This was the first and only perfect score of "10" in Olympic synchronized swimming history until Russia received the same award in Beijing for their freestyle routine. But for all of her accomplishments in the pool, she is also famous for the perfect pose with teammate Margo Thien that appeared in "Life Magazines" Celebration of the Olympic Body.
Since retiring from the sport, she has coached, been a consultant and choreographed for teams in China, Great Britain, Argentina and the Netherlands, as well as the U.S. Junior National Team and helped Stanford to their first synchronized swimming Collegiate National Championship.