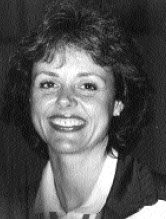 Nancy Hunt Weiman (USA)
Honor Synchronized / Artistic Swimmer (2006)
The information on this page was written the year of their induction.
INTERNATIONAL HIGHLIGHTS: Since 1975, she has competed in seven age groups (25+ thru 55+); Competed in nine FINA Masters World Championships winning 14 gold, 7 silver and 3 bronze medals in figures, solo, duet and teamevents; Competed in 25 U.S. Masters Synchronized Swimming National Championships winning 56 gold, 15 silver and 9 bronze medals.
BIG BATH, BIG BATH…" That's what a very young Nancy, peering out the back seat window of her father's Buick, declared as the Hunt family drove by one and then another of Minnesota's famed 10,000 lakes. She'd reach down and begin to take off her shoes and socks – she wanted to "get wet." The love of water came early – and today, brings us this Hall of Fame honoree.
As a child, Nancy learned to swim in Grindstone Lake, near Sandstone, "up North" from the Twin Cities. At nine, her best friends, twin girls who lived two doors away in St. Paul, convinced her to join a synchronized swim club with them at the local Y. That's how it began. Today, it's almost a half-century later, and Nancy's still in the pool, still swimming, still competing and still coaching.
She started synchronized swimming as an age group swimmer in St. Paul,MN coached by the great Ruth Zink. In 1969, she moved to San Francisco where she joined the famed San Francisco Merionettes, coached by Hall of Famer Marion and husband Don Kane, and swam for four years before "retiring" from amateur competition. Her Merionette years took her, in addition to National and International competitions, on a US State Department Good Will Trip to South and Central America, an Ed McMahon-hosted TV Special filmed in Mexico and in 1974, she joined many of her teammates to became part of Billy Rose's famed Aquacade in Barbra Streisand's hit movie, Funny Lady.
Even after 15- years of synchronized swimming competition, Nancy wasn't ready to stop swimming. She married and moved to Washington, D.C., but, in 1974, there was no Master's Program for synchronized swimming. It did not exist. So, Nancy led the effort to create it for very sport that today, now honors her. Nancy prepared the first set of rules, and, with a handful of others, literally helped establish and build a Master's program where none existed.
Nancy founded the DC Synchromasters and became its first and only coach. For the next three decades, Nancy participated in the Master's Program as a coach, as a competitive swimmer and occasionally, as a judge. The 2006World Games marks her 31st year of competition as a Master's Swimmer. Nancy began Master's Competition in the 25-29 age group and over the years participated in at least seven different age groups. Along the way, Nancy earnedmore than 110 medals (more than 75 are Gold), an assortment of ribbons and her teams amassed numerous high point trophies in National and International competition.
Nancy also played a unique role in the effort for synchronized swimming to become an Olympic sport. In 1980 and again in 1981, Nancy was invited by the Soviet Swimming Federation to work with their swimmers in Moscow and on the Black Sea in Sochi, after the Soviets signaled a willingness to support the US initiative to make synchronized swimming an Olympic sport beginning with the 1984 Olympics.
Nancy Hunt Weiman's contributions to her sport as a lifetime competitor, inspiring coach, and fair judge, her lifelong devotion to synchronized swimming, her special contributions that helped establish the Masters Synchronized Swimming Program and her personal commitment to "sport for life"make her an exemplary member of the International Swimming Hall of Fame.