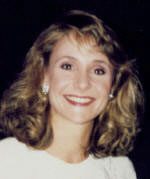 Nancy Hogshead (USA)
Honor Swimmer (1994)
The information on this page was written the year of their induction.
FOR THE RECORD: 1984 OLYMPICS: gold (100m freestyle (tie), 4x100m freestyle relay, 4x100m medley relay), silver (200m individual medley); 8 U.S. NATIONAL CHAMPIONSHIPS: (butterfly, freestyle, relays).
Nancy Hogshead was 14 years old when she was first ranked number one in the world. At 18 she qualified for the 1980 Olympic team, but was unable to participate due to the US boycott. She retired one year later.
Unable to stay out of the water, Nancy made a comeback in 1983 and took a leave of absence from her political science and women's studies at Duke. Within three months back from retirement, she was named "Comeback Swimmer of the Year." Her success did not go unnoticed; she received the Kiphuth Award, which is given to the best all around swimmer nationally.
Culminating eight years of world class swimming, Nancy showed her versatility qualifying at the 1984 Los Angles Olympics in three individual events, the 100 free, 200 fly and 200 IM. Nancy, Pablo Morales and Tracy Caulkins were the only three to do so.
Nancy was ready when her big chance came. Little did she know she would walk away the winningest swimming medal winner of the 1984 Games with three golds and one silver. On opening night, Nancy Hogshead won her fist Olympic gold medal in the 100 freestyle. She and Carrie Steinseifer, nicknamed "The Gold Dust Twins," actually tied and an unprecedented two gold medals were awarded, one to each girl.
Hogshead anchored the 400 freestyle and medley relays, taking gold in both. Not finished yet, she silvered in the 200 IM behind Caulkins. In less than eighteen months, Nancy Hogshead had gone from no time in the pool–not even for exercise–to a four time Olympic medal winner.
Nancy is one of those swimmers who continues to give back to the sport. As a dynamic corporate motivational speaker to more than 100 groups annually, Nancy says "I'm still discovering why my swimming experience was so successful. I continue to learn about principles that create success, and I'm committed to applying those principles to helping others."
Nancy is the current president of the Women's Sports Foundation, the non-profit educational organization that serves as the national collective voice of all those who are dedicated to promoting and enhancing the sports experience for all girls and women. Speaking from her personal victory over asthma, Nancy wrote the book Asthma and Exercise, of which 35,00 copies have been sold. She is the national spokesperson for the American Lung Association and contributing editor to Fitness Magazine. As the first female spokesperson for Jocky International, Nancy Hogshead is also women's swimming's number one jock. She showed Hall of Famer Jim Palmer that the world will take a woman athlete seriously in Jockey briefs and certainly in a swimsuit.