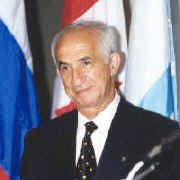 Mustapha Larfaoui (ALG)
Honor Contributor (1998)
The information on this page was written the year of their induction.
FOR THE RECORD: FINA: President (1988-present), Vice President (1972-1988); African Swimming Confederation: Founding Member, President (1974-present); Union of African Sports Confederation: Founding Member, President (1987-present); Algerian Olympic Committee: Founding Member, Secretary General (1962-1967); International Olympic Committee Member; Algerian Swimming Federation: Founding Member (1962), President (1962-1983 & 1985-1989), Vice President (1989-1995), Honorary Life Member (1995-present); Algerian Olympic Committee: Assistant Secretary General (1967-1984), Vice President (1984-1989); IOC Commission for the Olympic Movement: Member; Apartheid and Olympism Commission: Former Member; GAISF Council: Member (1989-1993); ASOIF: Council Member (1993-present); Evaluation Commission of candidate cities for the Games of the XXVII Olympiad in 2000: Member; Coordination Commission for the Games of the XXVII Olympiad in 2000: Member; IOC Working Group on Women and Sport: Member; Ministry of Youth and Sport in Algeria: Counsellor.
Few international representatives have had such a profound impact on aquatics than this great man from Algeria. In an unassuming, diplomatic manner, he has presided over FINA for 12 years, guiding the greatest growth in organized aquatics since Federation International de Natation Amateur was established in 1908. Only Harold Fern of Great Britain and Javier Ostos of Mexico have served two terms as FINA president. Mustapha Larfaoui has served three terms, and for 35 years has helped develop and implement major policy actions affecting all aquatic disciplines.
He is the first African to hold the presidency of world swimming. Born in 1932, he was a water polo player in his youth. In 1962, at the age of 30, he founded the Algerian Swimming Federation. Also on a national level in 1963, he was a founding member of the Algerian Olympic Committee, serving as secretary general until 1967. Devoted to his continent, he has served many years as president of the African Amateur Swimming Confederation and the Union of African Sports Confederations.
He was a member of the General Association of International Sports Federations and remains on the Association of Summer Olympic International Federations. In 1995, he was elected to international sports highest council, the International Olympic Committee. At the IOC he serves on the commissions for the Olympic Movement and Coordination for the 2000 Olympic Games.
President of FINA since 1988, his presidential tenure accomplishments are many. He established women's water polo as an Olympic event, the FINA Marathon Swimming World Cup Series was born, Short Course World Championships were initiated, FINA Diving Grand Prix and Synchronized Diving were instituted, Synchronized Swimming team entry became an Olympic event, an athletes commission was formed, increasing numbers of clinics and international seminars were held, a doping control program was instituted, the FINA archives were organized and the list continues to grow.
Mustapha globe trots the world giving the personal touch to members of each National Federation. He deems personal commitment and exposure as absolutely essential so that no one is isolated and all share in a common vision for the future of aquatics. Speaking a universal language, his warm smile, comfortable manner and steadfast purpose have been vital to the successful growth of FINA and the aquatics disciplines.
As the chief international-level decision-maker for 12 years, Mustapha Larfaoui has strived in his efforts to execute good decisions and the right decision to benefit the aquatic disciplines and those who participate in them.