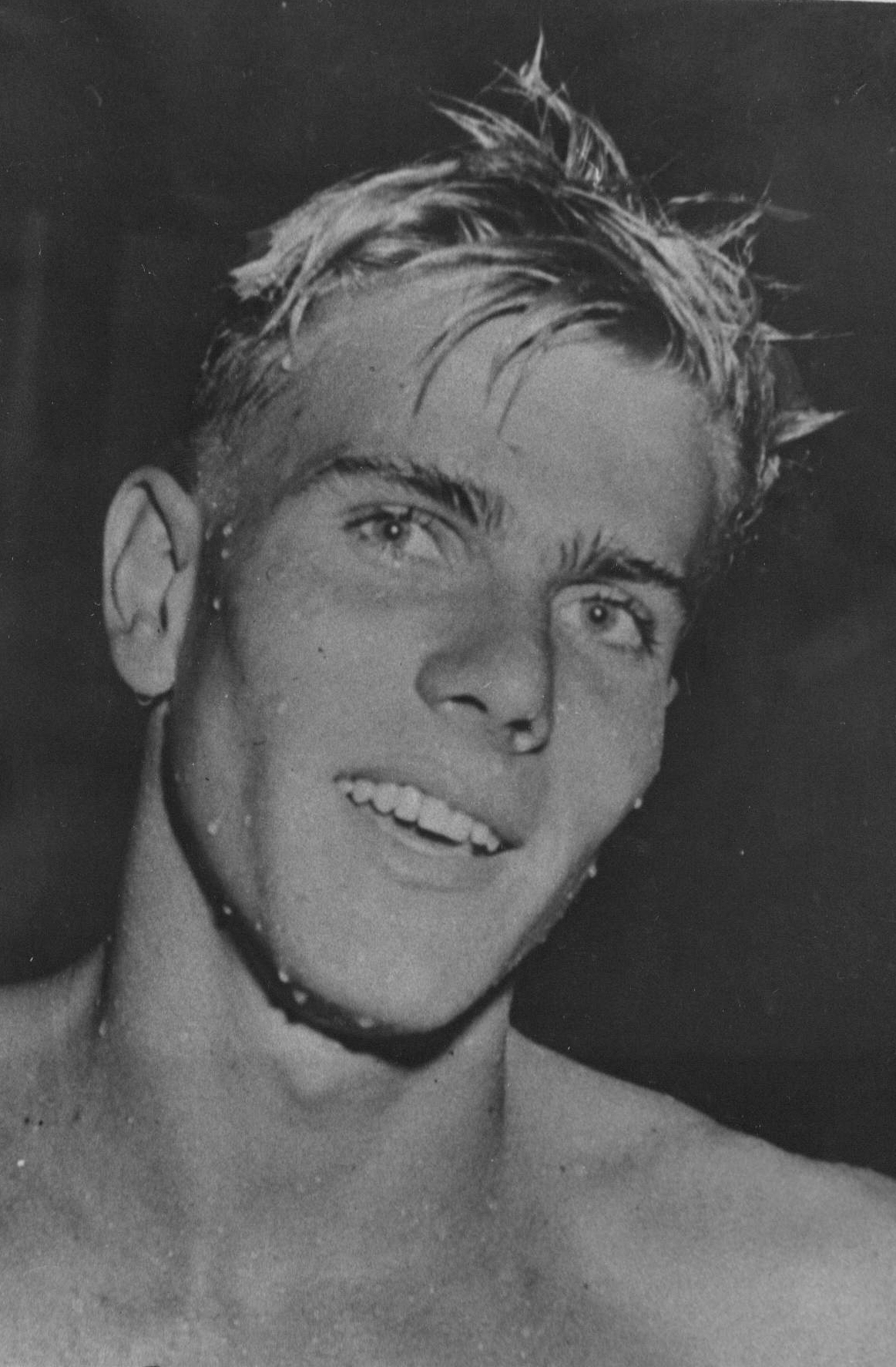 Murray Rose (AUS)
Honor Swimmer (1965)
The information on this page was written the year of their induction.
FOR THE RECORD: OLYMPIC GAMES: 1956 gold (400m, 1500m freestyle; 4x200m freestyle relay); 1960 gold (400m freestyle), silver (1500m freestyle), bronze (4x200m freestyle relay); WORLD RECORDS: 200m, 400m, 440yd, 800m, 880yd, 1500m, 1650m; AAU Award for major contribution to sport: 1962; Helms Foundation World Trophy for outstanding performance in sport: 1962.
Murray Rose became the youngest triple gold Olympic medalist in history at the 1956 Games in Melbourne where he won the 400 meter and 1500 meter events and was a member of the winning relay team. His age: 17. He made history again in Rome at the 1960 Olympics by becoming the first man ever to win a distance event, the 400 meter freestyle, in two successive Games.
Murray Rose is a current legend in the sporting world, a world record holder for 9 years in swimming, a sport in which champions are notoriously short-lived. Gus Stager of the University of Michigan, head coach of the United States team in Rome, calls Rose "the greatest swimmer who ever lived, greater than even Johnny Weissmuller". Hall of Famer Bob Kiphuth, head coach of earlier U.S. teams, has named Rose "the greatest swimmer of all time."
He has at various times in his career held world records in the following distances: 880 yards, 800 meters, 440 yards, 400 meters, 200 meters, 1500 meters, 1650 meters. His most recent world records were made on August 2, 1964, when he swam the 1500 meter race in the American National Championships in 17:01.8, faster than the winning time in the Olympics. Rose was not picked to represent Australia in what would have been his third Olympic Games because he could not return to Australia for the Olympic trials. There was a great deal of sentiment in favor of his being permitted to compete on his U.S. times, but the Australian Olympic Committee decided against. it. Rose's last competition was on September 5, 1964, when he set a new half mile world record of 8:55.5 in the Canadian Nationals at Vancouver. He is coming out of retirement to compete in the Hall of Fame International Swimming Meet. Rose's last international meet for Australia was in the British Commonwealth Games at Perth, Western Australia, in November, 1962, and he won every event which he entered, adding 4 gold medals for Australia.
Murray Rose was born in England in 1939 and emigrated to Australia with his parents at the age of 1. The family lived in Double Bay, a fashionable Sydney resort with a shark-netted beach at their back door and a million dollar view of Sydney harbor. It was here that Murray learned to swim.
Murray finished his education at the University of Southern California, from which he graduated in 1962 as the outstanding athlete/student of the year. He majored in drama and television and took the leading part in many plays on campus.
Rose was recently honored by being entertained by Her Majesty Queen Elizabeth and Prince Philip on their royal yacht, Britannia. Among other honors, he was featured on the postage stamp issued by the Dominican Republic, honoring athletes. In 1962, he was awarded a trophy (awarded to only one other individual in history) by the AAU for his major contribution to sport. That same year he also received the World Trophy from the Helms Foundation for outstanding performance in sport.
Murray has been raised from birth on a diet which has excluded meat, fish, poultry, refined flour and sugar, chemicalized products and which has substituted other little known foods, many of them offbeat. The story of his diet and the principles behind it is the subject of a book recently written by Ian F. Rose and published by Prentice Hall entitled: Faith, Love and Seaweed.
The Rose family comes from Nairnshire in the Highlands of Scotland. It traces its origins back to Hugh de Ros, one of the early Scottish barons. The Baron's name appears as a witness to the Charter of Beuly Priory in 1200. Murray's first name is "Iain", spelled with an extra "i" in honor of his Gaelic ancestors who fought for Prince Charles at the battle of Culloden Moor in 1746. The family have their own plaid and coat of arms. The family motto is "Constant and True."