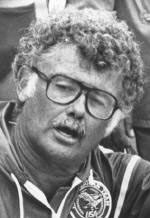 Monte Nitzkowski (USA)
Honor Coach (1991)
The information on this page was written the year of their induction.
FOR THE RECORD: OLYMPIC COACH; 1972, 1980, 1984; Assistant Coach 1968; PAN AMERICAN GAMES: 1979, 1983; Assistant Coach 1967, 1975; NATIONAL TEAM COACH: 1977-1984; OLYMPIC TEAM MEMBER: 1952 (200m breaststroke).
For 31 years, Monte Nitzkowski produced gold medal water polo teams. It is difficult to find anyone more dedicated to a sport than Monte is to water polo. Fortunately for the sport, his career as a swimmer eventually channeled his talents into coaching, beginning in 1955 and continuing through 1986.
An All-American swimmer, Monte specialized in the 100 yard butterfly at Fullerton Junior College in California where he swam and played water polo for two years. Monte transferred to UCLA after Fullerton and his success continued in both water polo victories and swimming accomplishments, culminating in a berth on the 1952 U.S. Olympic Team in Helsinki, Finland, swimming the butterfly-breaststroke.
Having Phenomenal success as a coach, his polo teams at Long Beach City College were undefeated for eight consecutive years. He served as coach of four USA Pan American Teams from 1967 through 1983, winning gold medals in all but one competition.
An Assistant Olympic Coach in 1968, Monte returned in 1972 as head coach, where his Olympic team won the bronze medal–the first time the U.S. team had won an Olympic medal in water polo since 1932. Monte continued his Olympic coaching career as head coach in 1980 and again as head coach of the 1984 team which won the silver medal in one of the closest finishes in Olympic history.
Nitzkowski was responsible for the rise of the U.S. world ranking in water polo. As national team coach from 1977 to 1984, he coached the U.S. players at many international tournaments including the 1979, 1981, and 1983 FINA Cup Championships. His love and support for water polo has made an impact on every player with whom he has come in contact. He continues to serve on the U.S. Water Polo Board of Directors.