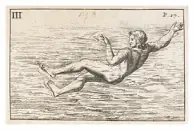 Melchisedech Thevenot (FRA)
Honor Pioneer Contributor (1990)
The information on this page was written the year of their induction.
FOR THE RECORD: Author of The Art of Swimming, (1764).
Melchisedech Thevenot is honored by the International Swimming Hall of Fame as author of the Art of Swimming and Advice For Bathing, the most significant swimming book of the 18th century.  Thevenot was nominated by Dr. James Counsilman, the founding President of ISHOF.  The French author's influence in the early days of swimming might be called the "Science" before "The Science of Swimming, vintage 1764", to steal a title from Counsilman, the most influential author of this century.  Thevenot's book was all the more remarkable because swimming was still considered a health hazard coming out of the Middle Ages.  Thevenot's book was the first great effort to remove swimming, the sport and the art, from the forbidden list of the best way to contract disease form the water if not by actually drowning.
Ironically, Benjamin Franklin widely credited as the first American swim coach and author, copied his book The Art of Swimming, dated 1821, from Thevenot's, written fifty seven years earlier. Franklin, and enterprising Philadelphia printer, spoke ( and translated) French.