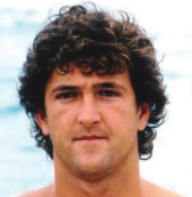 Mirko Vicevic (YUG/MON)
Honor Swimmer (2022)
The information on this page was written the year of their induction.
FOR THE RECORD: 1988 OLYMPIC GAMES: GOLD; 1986 WORLD CHAMPIONSHIPS: GOLD; 1991 WORLD CHAMPIONSHIPS GOLD; 1989 FINA WORLD CUP: GOLD; 1990 FINA WORLD CUP: GOLD; 1991 FINA WORLD CUP: SILVER; 1990 WORLD CUP "GOODWILL GAMES": GOLD; 1987 EUROPEAN CHAMPIONSHIPS: SILVER; 1989 EUROPEAN CHAMPIONSHIPS: SILVER; 1991 EUROPEAN CHAMPIONSHIPS: GOLD
The City of Kotor, known also as Cattaro, is a tiny fairytale-like place, tucked away in the heart of southern Europe. It is one of the most beautiful and well preserved towns in Montenegro, formerly Yugolsavia. This beautiful place is where Mirko Vicevic was born in 1968, into an athletic family, with a long tradition of water polo players, beginning with his grandfather, Ferdinand, who played for "Primorac" at the beginning of the 20th century. His father, Pavle, and uncle Slobodan, followed in his grandfather's footsteps and after they finished their successful careers as players, they became very successful coaches of the same water polo club and national team of Yugoslavia.
Mirko started playing at a very early age and was selected for the Yugoslavian Junior team in 1984. He helped lead the team to podium performances at all major championships prior to joining the senior team in 1986, at age 18. After winning gold at the 1986 World Cup and silver at the 1987 European Championships, he achieved his childhood dream of winning the coveted gold medal at the Olympic Games in Seoul in 1988. After that, Yugoslavia was unbeatable, winning every major international tournament.
Just when it looked like nothing could stop the Yugoslavians from securing an unprecedented Olympic three-peat, politics intervened. The Yugoslavian Federation began breaking up and when war broke out between Serbia and Croatia, the International Olympic Committee banned Yugoslavian teams from participating in the 1992 Barcelona Games.
It would be at a last chance, 1995 Olympic Qualification Tournament before Mirko Vicevic would have another chance to play for his country in FINA events- but now Yugoslavia consisted of only the two states of Serbia and Montenegro. After years of economic sanctions, and without players from Croatia, the Federal Republic of Yugoslavia, finished a disappointing eighth place in Atlanta in 1996.
While politics prevented Mirko from playing in FINA events, he flourished in Europe's professional leagues, leading Savona to the Italian Championships in 1993 and Brexia to the title in 2003. Mirko won the LEN Trophy three times while he was playing with Brexia.
During his career he played for the Yugoslavian National Team in 276 matches not including the 72 matches for the Junior Team and won every major title available from 1986 through 1991.
While still playing professionally, he received his coaching diploma and led Savona to the Italian Junior Championships in 1999. When Montenegro declared its independence in 2006, Mirko returned to Kotor to coach the new nation's junior team and a new club, "VaterPolo Academija Cattaro '' that has become a powerhouse in European water polo.
Since 2008, Montenegro has consistently fielded one of the top four water polo teams in the world. With a population of a little over 600,000 people, water polo has become a symbol of pride for the new nation, and Mirko Vicevic is regarded as a national treasure.