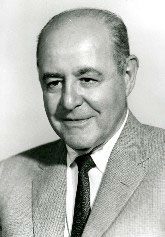 Mike Peppe (USA)
Honor Coach (1966)
The information on this page was written the year of their induction.
FOR THE RECORD: U.S. Olympic Coach: 1948, 1952 (5 gold medals); Coached divers and swimmers to 24 Olympic berths; Ohio State University coach for 33 years, coaching 33 major championship teams in Big Ten, NCAA, and AAU Championships; U.S. Pan American swimming and diving coach in 1951.
Mike Peppe is known around the world as the coach of more Olympic divers than any other man. During one long period, 20 divers who studied under this master coach bagged 96 of 125 available National titles, including two gold, four silver and three bronze Olympic medals in the four Games, 1948, 1952, 1956 and 1960.
Mike Peppe was graduated from Ohio State in 1927. He took a Masters from Columbia in 1928 and returned again to Ohio State where he became the University's first swimming coach in 1931 and the only head swimming coach until his retirement in 1962. During those 33 years, Peppe and Ohio State won 33 major championships, 12 Big Ten, 11 NCAA and 10 NAAU. In dual meets, Ohio State won 173 and lost 37. Peppe's teams went undefeated in 12 different seasons.
During these years, Peppe coached swimmers and divers, won 312 individual and relay championships, 5 Olympic gold medals and 19 Olympic team berths. Twice (in 1947 and 1956) Peppe's Ohio State divers swept the boards 1, 2, 3, 4 in the NCAA diving finals.
No swimming and diving coach had a better record in the 1950's than did Mike Peppe, the bantam master of the boards and the water at Ohio State. Peppe was U.S. Olympic diving coach at London in 1948 and again in 1952 at Helsinki. He was swimming and diving coach of the U.S. team at the first official Pan American Games in 1951 at Buenos Aires. In the four Olympic Games from World War II until Peppe retired, Ohio State contributed 19 of the 92 members. The 1952 team of 25 members had 5 "Buckeyes".