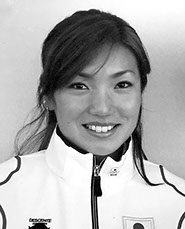 Miho Takeda (JPN)
Honor Synchronized / Artistic Swimmer (2018)
The information on this page was written the year of their induction.
FOR THE RECORD: 1996 OLYMPIC GAMES: bronze (team); 2000 OLYMPIC GAMES: silver (team, duet); 2004 OLYMPIC GAMES: silver (team, duet); 1994 WORLD CHAMPIONSHIPS: bronze (duet); 1998 WORLD CHAMPIONSHIPS: silver (duet), silver (team); 2001 WORLD CHAMPIONSHIPS: gold (duet), 2003 WORLD CHAMPIONSHIPS: silver (duet); 1997 WORLD CUP: silver (duet, team); 1999 WORLD CUP: silver (duet, team); 2002 WORLD CUP: silver (duet)
Miho Takeda was born and raised in the Kyoto Prefecture on Honshu, Japan's largest and most populous island. She began swimming at the age of five and turned to synchronized swimming two years later. She changed clubs at the age of thirteen to train under Masayo Imura, the national team coach and "Mother of Japanese Synchro."
At fifteen, Miho was selected to the Japanese Junior National Team that won a bronze medal at the 1991 FINA Junior World Championships. Two years later she reached the podium in solo, duet and team at the 1993 Junior World Championships.
In 1994, she was on Japan's team that won the bronze medal in the team event at the FINA World Championships. In 1995, Miho graduated from high school, began her studies at the elite Ritsumeikan University and, with the retirement of 1992 Olympic medalist Fumiko Okuno, she was paired with Hall of Famer, Miya Tachibana as a duet. Together, over the next eight years, they would win a total of five Olympic medals and become Japan's most decorated female Olympians.
Their first Olympic medal came in 1996, in Atlanta, where they won bronze in the team event, which was the only synchronized swimming event on the Olympic program that year. Then at two FINA World Cups, and at the 1998 World Championships between Olympics, Takeda and Tachibana won silver medals, just behind the Russians in each event. At the Olympic Games in Sydney, the Russians won again, while Miho and Miya won silver in both duet and team.
However, it was a different story at the 2001 FINA World Championships, in Fukuoka, Japan. Performing before an exuberant home crowd, Miho and Miya gave one of the best performances of their lives and received a near perfect score of 98.910. It was enough to claim Japan's first ever world title in Synchronized Swimming and beat the reigning Olympic champions, Hall of Famers Anastasia Ermakova and Anastasia Davydova, with a score of 98.390.
That was the last time anyone would beat the Russians, who won every major competition after Fukuoka, including the 2004 Olympic Games in Athens, but always just a fraction of a point behind were Takeda and Tachibani and the Japanese synchronized swimmers.
During their career together, Miho and Miya won one gold medal, in Fukuoka 2001, and seven silver medals at the eight FINA or Olympic competitions held from 1997-2004 in duet competitions. In the team competitions, they won six silver medals and one bronze medal, missing the podium only once in the same eight-year period. With her induction this year, Miho joins Miya, inducted in 2011, as one of the great synchronized swimmers of the modern era.
After retiring, Miho has stayed active in synchronized swimming as a television commentator, performer in water shows, and celebrity endorser. In 2007, she married Eikei Suzuki, a lawyer and politician who was elected governor of the Mie Prefecture in 2011. In addition to becoming a mother in 2012, she is a professor at Mie University, serves as honorary Chair of the Mie UNICEF Association and gives lectures on diet and exercise, and on corporate training and writing. She continues to share her love of the water and synchronized swimming with children.