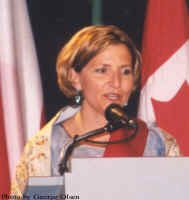 Michelle Calkins (CAN)
Honor Synchronized / Artistic Swimmer (2001)
The information on this page was written the year of their induction.
FOR THE RECORD: 1973 WORLD CHAMPIONSHIPS: silver (team); 1978 WORLD CHAMPIONSHIPS: gold (duet); 1976 PAN AMERICAN GAMES: silver (team); 1976 PAN PACIFIC CHAMPIONSHIPS: silver (team); 1977 PAN PACIFIC CHAMPIONSHIPS: gold (duet); NATIONAL TEAM COACH AND OLYMPIC COACH: 1988 – present.
Coach Debbie Muir of the Calgary Aquabelles had a knack for pairing the two most synchronized swimmers on her team when she paired Michelle Calkins with Helen Vanderberg to win the 1978 World Championships duet in Berlin, Germany. It marked the first time that Canadian synchronized swimmers had won a World Duet Championship, an important milestone in the evolution of synchronized swimming in Canada. In 1977, Michelle and her Hall of Fame partner Helen were named to the Elaine Tanner Award as Canada's best young female athletes of the year by Sports Federation of Canada. And all this before synchronized swimming became an Olympic sport!
In 1969, Michelle won the '12 and under' Alberta Provincial Figures Trophy and was on her way to synchronized swimming stardom. By 1971, she was a member of The Aquabelles Junior National Team Champions and in 1973 a Canadian Junior National Solo Champion. From 1973 to 1978, she won seven Canadian Senior National Championships in duet, team and figures events. Her first international competition was winning the silver medal in the 1973 First World Championships team event in Belgrade, Yugoslavia. She won the silver in the Mexico City 1975 Pan American Games team event. The Pan Pacific Championships of 1976 and 1977 were the warm up to the gold medal performance of the 1978 World Championships. All this was before synchronized swimming was an Olympic event. Also during 1978, she performed in a demonstration of synchronized swimming at the Edmonton Commonwealth Games before synchronized swimming became an official Commonwealth Games event eight years later in 1986.
Michelle's success was by virtue of her exacting technical skill. Her and teammate Helen's 1978 combined figures scores were 87.30, a full 2.70 points above the duet silver medalists. She performed creatively and with intensely dramatic routines. Michelle, with partner Helen, instigated the great success of their home club in Calgary culminating ten years later in another goal medal duet win, this time by Carolyn Waldo and Michelle Cameron at the 1988 Olympic Games.
Michelle's passion for synchronized swimming never diminished and she is now the head coach of her Aquabelles as well as serving as a Canadian National Team coach since 1988. She was the 1996 Canadian Olympic coach when Canada won the silver medal in the team event.