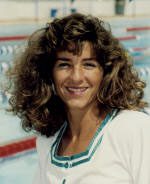 Michele Mitchell (USA)
Honor Diver (1995)
The information on this page was written the year of their induction.
FOR THE RECORD: 1984 OLYMPIC GAMES: silver (10m platform); 1988 OLYMPIC GAMES: silver (10m platform); 1985 FINA WORLD CUP: gold (10m platform); 1987 PAN AMERICAN GAMES: gold (10m platform); 9 U.S. NATIONAL CHAMPIONSHIPS.
Born in Scottsdale, Arizona, Michele Mitchell discovered the sport of diving purely by accident. As a gymnast she often went to the pool after practices to cool off. Former diver Charles "Sparky" Goodrich discovered her twisting and flipping. After a few sessions of diving, she was hooked on the sport.
It wasn't until some seven years after taking her first dive that she burst onto the US diving scene. Amazingly, Michele placed second just behind the reigning champion, Wendy Wyland, at her first platform national finals. One year after her graduation from the University of Arizona and entrance onto the national scene, this spunky diver surprised her competition once again by winning the Olympic Trials and setting a record while doing it! In the summer of '84, before a crowd of some 20,000 participants, Michele Mitchell dove off the Olympic platform in Los Angeles to claim a silver medal.
Mitchell continued her winning momentum throughout the 1985-86 seasons. At the World FINA Cup in China, she claimed the world title, defeating her Olympic competitor, Zhou Ji Hong.
Tired from years of relentless training and surgery on her shoulders, Michele struggled to hold on until the 1988 Olympic Trials. And hold on she did! In a three way struggle for the two spots on the Olympic Team, Mitchell's steadfast determination and grit paid off — she won her second Olympic Trials, going on to the Olympics to win yet another silver medal.
In total, Mitchell won nine US National titles, a Pan American Games gold, a FINA World Cup title and two Olympic silver medals, among numerous international titles. Michele still holds three national records for the highest diving score of 479.4 on the platform, the highest point total of 94.4 for a single dive, as well as the highest total record in the Pan American Games.
Michele has been very active since her retirement. She has assisted the International Swimming Hall of Fame in the coordination of numerous events, acted as a commentator for swimming and diving events including the 1992 Olympics, and has fought the American Gladiators and won!
Michele Mitchell currently lives in Southern Florida where she and husband Jose Rocha (former Olympic diver from Mexico) coach the Atlantic Diving Team, the largest in Florida.