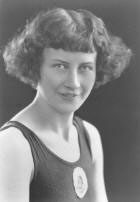 Joyce Cooper (USA)
Honor Swimmer (1996)
The information on this page was written the year of their induction.
FOR THE RECORD: 1928 OLYMPIC GAMES: bronze (100m freestyle, 100m backstroke), silver (4x100m freestyle relay); 1932 OLYMPIC GAMES: bronze (4x100m freestyle relay), competed in 100m backstroke; 1930 BRITISH EMPIRE GAMES: gold (100yd freestyle, 400yd freestyle, 100yd backstroke, 4x100m freestyle relay) 1927 EUROPEAN CHAMPIONSHIPS: gold (4x100m freestyle relay), silver (100m freestyle); 1931 EUROPEAN CHAMPIONSHIPS: silver (400m freestyle, 100m backstroke, 4x100m freestyle relay), bronze (100m freestyle); 19 A.S.A. Titles (100yd, 200yd, 440yd freestyle, 150yd backstroke).
Born in 1909, she is a native of Sri Lanka but lived in Great Britain. Under the guidance of her coach, Bill Howcroft, she became one of Britain's most successful international swimmers at a time when the world was beginning to open up to international exchange and competition beyond the once every four years of the Olympic Games.
It was in 1927 that Howcroft coached Joyce Cooper to her first Amateur Swimming Association (ASA) Championship. This qualified her as the British representative to the inaugural European Championships of 1927 in Bologna, Italy, where she won the silver medal in the 100m freestyle. She was on the 4x100m freestyle relay team. Four years later in the European Championships of 1931 in Paris, she won three silver medals, one each in the 400m freestyle behind Marie Braun of Holland, the 100m backstroke again behind Braun, and the freestyle relay. She also won the 100m freestyle bronze medal behind Willy den Ouden of Holland and Godard of France.
Cooper was a swimmer who could swim both backstroke and freestyle equally well and compete at any distance. She won nineteen ASA titles in the 100yd, 220yd, 440yd, freestyles and the 150 yard backstroke. She also won the Women's Long Distance Swimming Championships many years in succession and many which were held on the same course as the Oxford-Cambridge Rowing Race, only in reverse, from Kew Bridge to Putney Bridge. At one time she held all the British freestyle records from 100-500 yards.
Fighting for the gold was only half the battle for swimmer Joyce Cooper. In the early 1930s, unemployment saturated her country leaving athletes afraid to travel to championships for fear of losing their jobs. Cooper worked hard as a tailor, sewed dresses and taught ballroom dancing. Because Britain was divided into five districts, swimming championships were held at five different venues. She fought to have the ASA centralize these championships so that a single meet would determine the national champions. In 1933 this finally happened.
Joyce Cooper competed in the first ever 1930 British Empire Games of Hamilton Canada and won all the women's events except the backstroke. She was her country's hero. This came after her thrilling medal winning victories at the 1928 Amsterdam Olympics where she won bronze medals in the 100m backstroke and freestyle losing to world record holders Braun of Holland and Osipowich of the USA. Cooper's relay team won the silver medal.
The 1932 Los Angeles Olympic Games again saw competition for Joyce. Her only medal came in the 400m freestyle relay, but she competed in three other events. In the 100m freestyle, she set the Olympic record in the preliminaries, but swimming in the fastest of two-semi-final heats, she missed her turn and finished fourth, still with a faster time than Helene Madison who won the other semi-final heat. Because only three swimmers per heat advance to the finals, she was out. Holland and the USA protested to allow her to swim in the seventh lane of the final, but the rule prevailed; only six in the finals. In the backstroke event she did not medal and was beaten by gold medalist Eleanor Holm who Cooper had beaten two years earlier in the United States.
Joyce Cooper gives great value to her traveling and great encouragement from Ma Braun of Holland, Charlotte Epstein of the USA, Mrs. Chambers of Australia, Bill Howcroft and Buller Diploch of Britain and her dad. It was her dad who insisted that she not be a "weakling", especially when she collapsed at the end of races.
She was invited by South Africa's Amateur Swimming Union to tour Rhodesia and Southern Africa and by Australia's New South Wales "Huntz" chambers to compete, lecture and demonstrate about swimming in schools and clubs, breaking country records on the way.
Joyce Cooper's world record in the 150yd backstroke stood for a year before it was broken by Eleanor Holm in 1932. Between 1927 and 1934 she raced all the world record holders representing Britain and her hometown Mermaid Club.