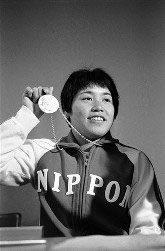 Mayumi Aoki (JPN)
Honor Swimmer (1989)
The information on this page was written the year of their induction.
FOR THE RECORD: OLYMPIC GAMES: 1972 gold (100m butterfly); WORLD RECORDS: 2 (100m butterfly); WORLD CHAMPIONSHIPS: 1973 bronze (100m butterfly); CANADIAN NATIONALS: 1970 gold (100m butterfly).
On Friday, September 1, 1972, 19 year old Mayumi Aoki became Japan's first female Olympic gold medal winning swimmer in 40 years and only the second in history after Hall of Famer Hideko Maehata won at the 1932 Los Angeles Olympics.
In winning her race at the Munich Games, Aoki established several other Olympic firsts. She was the first non-American to win the women's 100 meter butterfly since it was introduced into the games with Shelly Mann's gold medal in 1956. She was the first woman to lower the Olympic record under 1:04. Her world record of 1:03.9 had been set at the Japanese Nationals earlier in the summer. She swam a new world record of 1:03.34 in the Olympic Finals, in a cliff hanger over the German Democratic Republic's Roswitha Beier, Hungary's Andrea Gyarmati and America's Deena Deardruff and Dana Shrader. All five women were under Mayumi's old world record in one of the closest across the board finishes in Olympic history. Aoki swam a super fly split of 1:02.47 in the medley relay but it wasn't enough to make her Japanese team a medal winner.
Aoki was A-OK in winning her first big North American race at the Canadian Nationals in 1970. She also won a bronze medal for a third place finish at the first World Championships in 1973. She was Japanese National Champion in the 200 meter butterfly as well as the 100 meter butterfly. She is currently (1989) a high school physical education teacher and a swimming coach in Japan.