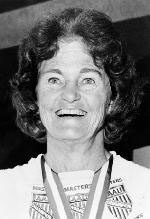 Maxine Merlino (USA)
Honor Masters Swimmer (1999)
The information on this page was written the year of their induction.
FOR THE RECORD: 59 WORLD AGE GROUP RECORDS (25 long course, 34 short course); 193 NATIONAL AGE GROUP RECORDS (62 long course, 40 short course meters, 91 short course yards); 19 NATIONAL USMS TITLES.
Maxine Merlino was born in Portland, Oregon in 1912, and luckily attended the only elementary school in Portland that had a swimming pool. By the age of 12, she was swimming and from that time on she was "hooked". She began her competitive career at the age of 13, swimming for the Multnomah Athletic Club under the direction of Hall of Fame coach Jack Cody. She held a Pacific Coast record in backstroke for seven years until it was broken by Esther Williams.
At the age of 24, she was awarded a scholarship by the Art Students League in New York City. After earning her degree, she worked as a free lance artist for a number of well-known publications, including the New Yorker. She also painted three murals on a contract for the U.S. Government, one of which still hangs in Washington, D.C. During the war, her husband was transferred to southern California, and Maxine got a job there as a scientific illustrator for an air base. After the war, they decided to make California their permanent home, and Maxine went to work doing set design for Preston Sturges, a famous comedy writer and film producer. In 1949 Cal State Long Beach opened, and she took a job teaching art and theater art. She retired as the Dean of the School of Fine Arts in 1976.
In the meantime, in 1971 at the age of 59, she was visited for the summer by her grand daughter who lived in Madrid, Spain. While teaching her to swim, a Masters enthusiast asked Maxine to join the Masters swim team. At the age of 60 in 1972 she swam in her first meet and "caught the bug". She tells of training without a coach for the 400 IM by reading about proper stroke techniques and by swimming a quarter mile of each stroke. When it came close to a meet, she would switch to swimming 800 IM as her final preparation. In one meet, she began swimming the race, and started with 200 Fly, followed by 200 Back. She was stopped by an official after she began the breaststroke, and was informed that although she had completed 400 yds., she unfortunately didn't swim the correct strokes and was therefore disqualified.
It is noteworthy that in 1983 at the age of 70 and in 1988 at the age of 75, she set national records for short course yards in every event and at every distance with one exception (in 1983, 50 Fly and in 1988, 100 Free) in her age group. All toll, she has set 59 world age group records, competed in two World Championships, set 193 National records and won 19 USMS National championships.