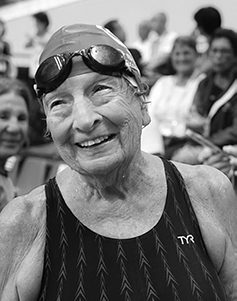 Maurine Kornfeld (USA)
Honor Masters Swimmer (2018)
The information on this page was written the year of their induction.
INTERNATIONAL HIGHLIGHTS: World Points-893, Pre-1986 Points-0. Total Points 893. Since 1986, she has competed in 7 age groups (65-69 through 95-99); 28 FINA MASTERS WORLD RECORDS
Maurine Kornfeld grew up in Great Falls, Montana and learned to swim at the Morony Public Natatorium. It wasn't love at first sight though. The water was cold, and the swim suits were ugly. It was enough to keep her out of the water for over sixty years.
After retiring from her career as a social worker, Kornfeld started swimming with the Masters team at the Glendale, California YMCA, where she learned the ropes and some of the vocabulary. She not only took to Masters, but also took all the Red Cross courses for Water Safety Instructor, Advanced Lifesaving and Adapted Aquatics. She made her Masters debut in the 65 – 69 age group, and set her first Masters World Record at the age of 90.
At the 2017 FINA Masters World Championships in Budapest, Kornfeld was the oldest female swimmer at the meet and amazed the city when she set a new World Record in the 95-99 age group in the 800m freestyle.
Master swimming has become a major part of Kornfeld's life. At 97 years old, she wakes up before dawn's early light, four mornings a week, tackling two freeways to drive to the Rose Bowl Aquatic Center for a Masters workout. She has been competing for 31 years and has raced at four FINA World Championships, winning 14 gold and four silver medals.
"It's such fun swimming with my teammates," she says, "they are remarkably tolerant of my snail's pace and literally swim circles around me!" After practice she "hangs out" with a group of younger swimmers in the hot tub to cool down and settle the problems of the world, she says. Then she's off for her other major activities, serving as a docent at the Los Angeles County Museum of Art, or she is giving tours at the historic Los Angeles Union Station.
Kornfeld's secret to life: "If you can't out swim them, outlive them!" And in the process, she's inspiring the world to live a long and healthy life through Masters swimming.