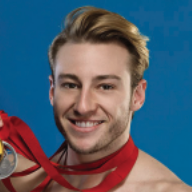 Matthew Mitcham (AUS)
Honor Diver (2022)
The information on this page was written the year of their induction.
FOR THE RECORD: 2008 OLYMPIC GAMES: GOLD (10M PLATFORM); 2009 WORLD CHAMPIONSHIPS: BRONZE (1M SPRINGBOARD); 2010 COMMONWEALTH GAMES: SILVER (1M SPRINGBOARD, SYNCHRO 3M SPRINGBOARD, 10M PLATFORM, SYNCHRO 10M PLATFORM); 2014 COMMONWEALTH GAMES: GOLD (SYNCHRO 10M PLATFORM), SILVER (1M SPRINGBOARD, SYNCHRO 3M SPRINGBOARD)
Matthew Mitcham originally got his start as a trampoline gymnast, thanks to his beloved grandfather who bought him a trampoline. Early on in his successful trampoline career, he was spotted by the Australia Institute of Sport's (AIS) Coach Wang Tong Xiang, and was asked to consider diving. Mitcham was immediately made a member of the AIS and began his training.
For the first seven years of Matthew's diving career at the AIS, he only ever had Chinese coaches, who he described  as "ferociously dedicated and ruthless". It was nothing like the world of trampolining with folksy community  spirit, and kind and caring officials and competitors. It was not until he met Coach Chava Sobrino, some years later,  would Matthew feel at his best in diving. 
The bulk of Matthew's early years he dove with Coach Hui, who he butted heads with on a regular basis. Although, through this difficult time, he was a successful diver. At the 2004 Junior Nationals, Mitcham won all three individual events as well as the 3m synchronized title. And in 2005, Mitcham won his first Senior national title.
By August 2006, Matthew was so unhappy, he decided to retire; luckily it was short-lived. In January 2007, he received a call from his old friend, Chava Sobrino at the New South Wales Institute of Sport. He decided to give diving another try, this time with a new approach and a new coach. Together they would only have 15 months to get ready for the next Olympics in Beijing.
Matthew thrived under Chava. In early 2008, at the Australian National Championships, he won the 1m, 3m and 10m events, only the fourth time a diver had won all three events at the Australian Nationals. Next up was the Olympic Trials in Hobart, where he took the 3-and 10-meter titles.
Going into Beijing, the Chinese were expected to win gold. The first thing Matthew had to do was to qualify for the finals. Matthew came in second. He had done it. He was in the finals of an Olympic event. In the finals, it all came down to the last dive and Matthew had saved his best dive for last, but he needed to nail it. Zhou Luxin would take the gold medal if he didn't rip it. Back two-and one-half-somersaults with two-and-one-half-twists. Matthew did his dive and scored four perfect tens and two nine-and-a-halfs. Matthew did not know it at the time, but it was the highest score ever for a 10meter platform dive in the history of the Olympic Games, 112.10 points. It was also the first time an Australian diver had won a gold medal since Dick Eve had done it in 1924 in Paris.
After Matthew's gold medal performance, he continued diving through the next Olympiad. He won gold on the 1-meter at the 2009 World Championships. In 2010, he was ranked #1 in the world by FINA, winning the 10m platform at the Diving World Cup in Changzhou 2010, and the FINA Grand Prix (Canada); He won again at the 2011 Fina Grand Prix on the 10m platform; in 2014, at the Commonwealth Games in Glasgow, he won gold in the 10m synchro event and he also won two silvers, one in the 1m and one in the 3m synchro event.
Matthew Mitcham retired in the beginning of 2016, with a stellar career behind him and a bright future ahead of him.