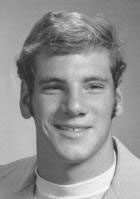 Matt Vogel (USA)
Honor Swimmer (1996)
The information on this page was written the year of their induction.
FOR THE RECORD: 1976 OLYMPIC GAMES: gold (100m butterfly, 4x100m medley relay); ONE WORLD RECORD: 4x100m medley relay; ONE AMERICAN RECORD; 4x100m medley relay; ONE NCAA CHAMPIONSHIP: 100yd butterfly.
He started swimming in Ft. Wayne, Indiana, for legendary coach Glen Hummer, competing at the Huntington, Indiana YMCA and in the famous quarry which hosted the U.S. National Long Distance Championships each summer. Hummer had coached Hall of Famer George Haines and 1968 Olympic champion Sharon Wickman in the Huntington swimming program. Little did Matt Vogel know that he was to follow in their footsteps.
During his early training days, Matt never competed in long course swimming pools. In 1975, he competed in his first big swimming meet – the YMCA Nationals in Ft. Lauderdale, Florida. He won the 100yd butterfly and was second in the 200yd butterfly. Realizing Matt's potential, Tennessee coach Ray Bussard recruited Matt and provided his initial long course training the summer of 1975.
All during the swim season of 1975-1976, Matt trained short course. As a Tennessee freshman he won the 100yd butterfly at the NCAA Championships. This was his first major success against international caliber swimmers.
At this time, he decided he really wanted to go after an Olympic medal in Montreal. Vogel had a great inner strength to achieve any goal he conceived. His good feel for the water and the little delay in his kick made him a natural and a great butterflyer.
He trained with Bussard for the U.S. Olympic Trials of 1976, barely qualifying and finishing third behind Joe Bottom and veteran Gary Hall.
Then it was off to Montreal. Between the preliminaries and semi-finals, Hall, Bottom and GDR's Roger Pyttel all qualified ahead of Vogel. Could he beat them? Only Matt and his coach knew – "no excuses, never give up, be a winner." In his final preparation, Vogel not only shaved his head, but in the Olympic final, he also shaved forty-five seconds off his qualifying time to win the gold medal. This meant that the jubilant Matt Vogel would also swim the butterfly leg of the 4x100m medley relay. The relay team won the Olympic Championship in world record time, giving Matt his second gold medal. This was indeed a remarkable performance considering it represented only the seventh long course, 100m butterfly race of his career.
Matt took a year off from training following the Olympic Games but returned to Tennessee for the 1977-78 school year as a member of the Tennessee team that won the NCAA National Championship.
Matt Vogel had what his coach call SPIZZERINCTUM, the will to succeed.