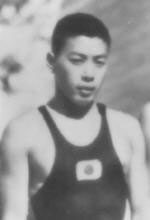 Masanori Yusa (JPN)
Honor Pioneer Swimmer (1992)
The information on this page was written the year of their induction.
FOR THE RECORD: OLYMPIC GAMES: 1932 gold (relay); 1936 gold (relay); 1936 silver (100m freestyle); WORLD RECORDS: 3 (relays); AMERICAN RECORDS (Long Course): 1 (relay).
Born in 1915 in Kagawa Province, Masanori Yusa was to become Japan's fastest swimmer of the 1930s decade. The only two men to hold the world's 100-meter freestyle record during that time were the USA's Johnny Weissmuller and Peter Fick. Yusa was only a fraction over their times.
Masanori Yusa swam for Nihon University and was a teammate of the great Tetsuo Hamuro, who became the 1936 Olympic 200-meter breaststroke champion in Berlin. Yusa's first Olympics was the 1932 Los Angeles Games in which he competed on Japan's 4×200 meter freestyle relay team that won the gold medal in world record time of 8 minutes 54.4 seconds.
His next international competition was in 1936 at the second USA versus Japan dual meet held in Tokyo. He swam on the 4×200 meter freestyle relay which again set the world record and won the 200 meter freestyle. He was second to Peter Fick in the 100-meter freestyle.
In 1936, he repeated his Olympic gold medal performance as a member of the 4zx200 meter freestyle relay. Additionally, he won the silver medal in the 100-meter freestyle to the Gold Medal of Hungary's Ferenc Csik. Both Yusa and Fick spent too much time watching each other during the race and the Hungarian came up in the outside lane to win the race. Yusa set the Olympic record art 57.5 seconds in the semi-finals, but did not swim fast enough to beat Csik's 56.0 seconds in the finals.
Masanori Yusa seemed to set a world record every time his relay team swam in major competition.