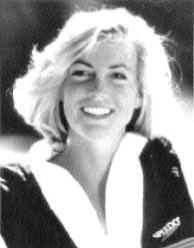 Mary Wayte (USA)
Honor Swimmer (2000)
The information on this page was written the year of their induction.
FOR THE RECORD: 1984 OLYMPIC GAMES: gold (200m freestyle); 1988 OLYMPIC GAMES: silver (4x100m medley relay), bronze (4x100m freestyle relay); 1986 WORLD CHAMPIONSHIPS: silver (4x200m freestyle relay); 1983 PAN AMERICAN GAMES: gold (4x100m freestyle relay), silver (200m freestyle); 1985 PAN PACIFIC CHAMPIONSHIPS: silver (200m freestyle);FOUR U.S. NATIONAL CHAMPIONSHIPS: 1-200y free, 2-200m free, 1-400m I.M.; TWO NCAA CHAMPIONSHIPS.
Although she was raised on Mercer Island, Washington, this young lady did most of her international swimming in Florida for Coach Randy Reese at the University of Florida and the Holmes Lumber Team. At 5 feet, 8-1/2 inches and 128 pounds, Mary Wayte became one of the USA's top freestyle swimmers winning Olympic and international meet medals.
As a U.S. National Team member from 1981 to 1988, Mary's international career sparkled as a medalist on teams competing in Japan (1981, 1985), France (1982), Holland (1982), Venezuela (1983), Monaco (1985), Spain (1986) and Korea (1988). At the 1983 Pan American Games, she won the silver medal in the 200m freestyle, just behind Hall of Famer Sippy Woodhead. She won the gold medal as a member of the 4x100m freestyle relay.
The 1984 Olympic Games of Los Angeles were a highlight of Mary's career. She beat her archrival Woodhead and won the 200m freestyle gold medal. She received a second gold medal by competing in the preliminary heat of the winning 4x100m freestyle relay team. She returned to the Olympic arena in 1988 winning the silver medal on the 4x100m-medley relay and the bronze medal as a member of the 4x100m freestyle relay. She had completed a full sweep of all Olympic medals – gold, silver and bronze. She also competed in the 200m freestyle finishing fourth, and the 200m individual medley, showing her swimming versatility.
During this Olympic quadrennium, Mary won the silver medal at the 1986 Madrid World Championships in the 4x200m freestyle relay. In collegiate swimming at Florida, she was Southeast Conference Swimmer of the Year (1985, 1987) and a 1985 two-time NCAA Champion in the 100yard freestyle and 400yard individual medley. She is a 26 time NCAA All-American. She has won four U.S. National Championships, one in the 200y freestyle, two in the 200m freestyle and one in the 400m individual medley.
After retirement, Mary's swimming connection took her to television where she became a color commentator for Sports Channel featuring swim meets and crowd interviews at NBA games. She served as NBC's color commentator for women's swimming at the 1996 Olympics in Barcelona. and continues to cover women's collegiate swimming for the ESPN network at the NCAA National Championships. She has been a promoter for Speedo, Alamo, the National Spa and Pool Institute, the International Swimming Hall of Fame and other organizations. Mary was inducted into the University of Florida's Athletic Hall of Fame in 1999.