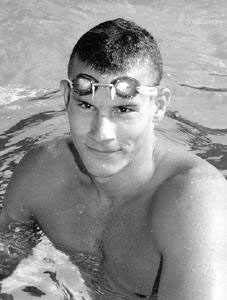 Martin Lopez Zubero (ESP)
Honor Swimmer (2004)
The information on this page was written the year of their induction.
FOR THE RECORD: 1988 OLYMPIC GAMES: 11th (200m backstroke); 1992 OLYMPIC GAMES: gold (200m backstroke), 4th (100m backstroke), 7th (100m butterfly); 1996 OLYMPIC GAMES: 4th (100m backstroke), 6th (200m backstroke); FOUR WORLD RECORDS: 2-200m backstroke (L.C.), 2-200m backstroke (S.C.); 1991 WORLD CHAMPIONSHIPS: gold (200m backstroke), bronze (100m backstroke); 1994 WORLD CHAMPIONSHIPS: gold (100m backstroke), silver (200m backstroke); 1989, 1991, 1993, 1997 EUROPEAN CHAMPIONSHIPS: 5 gold (4-100m backstroke, 1-200m backstroke ('91)), 2 silver (1-200m backstroke ('93), 1-100m butterfly ('91); Over 20 SPANISH NATIONAL CHAMPIONSHIPS; Over 6 SPANISH NATIONAL RECORDS: 50m, 100m, 200m backstroke, 100m, 200m butterfly, 200m I.M. (LCM, SCM); 4 NCAA NATIONAL CHAMPIONSHIPS: 2-200y backstroke, 1-200y I.M., 1-4x100m medley.
Martin Lopez Zubero was born April 23, 1969, with Spanish-American citizenship in Jacksonville, Florida, USA. Swimming became the sport of his family, and at the age of 11, this skinny little kid watched his big brother David win the Olympic bronze medal in the 100m butterfly at the 1980 Moscow Games. At that time, he decided that he wanted to go to the Olympic Games too. Sister Julie was also an Olympian, both for Spain.
Martin progressed as an age-group swimmer. He competed for Coach Greg Troy at Bolles School and Coaches Randy Reese and Skip Foster at the University of Florida. Older brother David was always there as Martin's personal coach. Ron Ballatore coached him at the Florida Aquatic Swim Team (FAST), post university level.
On the international scene, Martin became an unbeatable machine. He competed on three Olympic teams – 1988, 1992, 1996. He was 11th in the 200m backstroke at the Seoul Olympics of 1988 but came back four years later in Barcelona to capture the gold medal. At these 1992 Olympic Games, he was also 4th in the 100m backstroke and 7th in the 100m butterfly. Again in Olympic competition four years later in Atlanta, 1996, he finished 4th in the 100m backstroke and 6th in the 200m backstroke.
Zubero was a two-time world champion, winning the 200m backstroke at the 1991 Perth World Championships and the 100m backstroke at the 1994 Rome World Championships. He won the bronze medal for the 100m backstroke in 1991 and the silver medal for the 200m backstroke in 1994. He is a five-time European champion, winning the 100m backstroke in 1989 (Bonn), 1991 (Athens), 1993 (Sheffield) and 1997 (Seville). He was the 200m backstroke gold medalist in 1991 and silver medalist in 1993.
Swimming at the University of Florida, Martin was the 1991 NCAA Swimmer of the Year and four-time NCAA National Champion, winning the 200y backstroke in 1990 and 1991, the 200y individual medley in 1991, and the 4x100y medley relay in 1991.
Martin set four world records swimming backstroke. He was the first to swim under 1:58.00 for the 200m backstroke, when in 1991 at the Hall of Fame pool in Fort Lauderdale, he went 1:57.30, breaking Igor Poliansky's (URS) six-year-old world record. Three months later in Tuscaloosa, Alabama, he went a 1:56.57, another world record which stood for eight years until broken by Lenny Krayzelburg (USA) in 1999. He set two short course world records in the 200m backstroke which held for almost nine years until broken again by Krayzelburg.
Martin won the 100m and 200m backstroke at the Goodwill Games of 1990 and 1994. He and his brother David are only the fourth set of brothers to win Olympic medals in swimming competition, the others being Duke and Sam Kahanamoku and Warren and Pau Kealoha of the 1920s and Bruce and Steve Furniss of the 1970s.
Martin graduated from the University of Florida in 1998 with a degree in health and human performance and recreation. He is the assistant head swimming coach at the Bolles School and has been the Florida Age Group Coach of the Year in 1998, 1999 and 2002 (American Swimming Coaches Association).