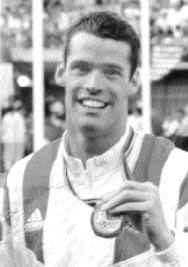 Mark Tewksbury (CAN)
Honor Swimmer (2000)
The information on this page was written the year of their induction.
FOR THE RECORD: 1988 OLYMPIC GAMES: silver (4x100m medley relay), 5th(100m backstroke); 1992 OLYMPIC GAMES: gold (100m backstroke), bronze (4x100m medley relay); SEVEN WORLD RECORDS: 1 (200m backstroke (SC)), 6 (100m backstroke ñ (SC) (1)); 1986 WORLD CHAMPIONSHIPS: 4th (100m backstroke); 1991 WORLD CHAMPIONSHIPS: silver (100m backstroke); 1986 COMMONWEALTH GAMES: gold (100m backstroke, 4x100m medley relay); 1990 COMMONWEALTH GAMES: gold (100m backstroke, 4x100m medley relay); 1985 PAN PACIFIC CHAMPIONSHIPS: 8th (100m backstroke); 1987 PAN PACIFIC CHAMPIONSHIPS: gold (100m backstroke), silver (200m backstroke, 4x100m medley relay); 1989 PAN PACIFIC CHAMPIONSHIPS: gold (100m backstroke), silver (4x100m medley relay); 1991 PAN PACIFIC CHAMPIONSHIPS: silver (100m backstroke, 4x100m medley relay); 21 NATIONAL CHAMPIONSHIPS: 11 (individual), 10 (relays); ONE U.S. NATIONAL CHAMPIONSHIP: 100yd backstroke; SWIMMING CANADA'S MALE ATHLETE OF THE YEAR: four times.
It all began for him at the age of 5 when the family moved from Calgary, Alberta to Dallas, Texas. The relentless 100-degree Texas heat forced mom, dad and kids to spend time in the cool water. Upon returning to Calgary two years later, this youngster who had become a competitive swimmer soon joined the Cascade Swim Club and launched a rare and successful swimming career. Mark Tewksbury was on his way to Olympic stardom and world record history.
Following a few difficult years of age group swimming, Mark moved to the University of Calgary Swim Club where, under the guidance of Hall of Fame coach Deryk Snelling, he spent 12 years perfecting technique, improving conditioning and establishing his place in international swimming. By age 17 in 1985, he made his first international team, the Tokyo Pan Pacific Games and his 100m backstroke world ranking went from 54th place to 4th place. At the 1986 Commonwealth Games in Edinburgh, he won gold medals in both the 100m backstroke and 4x100m-medley relay and in the year before the 1988 Olympics, he was ranked 2nd in the world behind Igor Polianski of Russia. But at the 1988 Seoul Olympics, he finished a disappointing fifth place behind Suzuki of Japan, Berkoff of the USA and others who unlike him, were using the new underwater kick. Canada's medley relay team did take a silver medal with Mark swimming the lead-off backstroke leg.
Disappointed but not disoriented, Tewksbury returned home talking to school children about the merits of amateur sports and talking himself into competing another four years. In 1990, he won another two gold medals at the Commonwealth Games and set the first of seven short course world records in the backstroke. After suffering a defeat by USA's Jeff Rouse at the 1991 World Championships in the 100m backstroke by six hundredths of a second, Mark teamed up with Canada's synchronized swimming coach Debbie Muir and developed his underwater dolphin kick that greatly improved his starts and turns. The next year at the 1992 Barcelona Olympics, Mark won the 100m backstroke with a come-from-behind victory in a new Olympic record time. His medley relay team won the bronze medal. Throughout his career Tewksbury won 21 Canadian National Championship titles with one additional U.S. National Championship. He was picked as Canadian Swimmer of the Year four times (1987, 1991, 1992, 1993). In 1989-1990, he was first in the backstroke World Cup standings with 66 points, second in 1988-1989.
Tewksbury's wins were life-changing, putting him on the cover of Time Magazine and awarding him Canadian Athlete of the Year, the Meritorious Service Medal and a place in the Canadian Sports Hall of Fame. After his 1993 retirement, Mark remained active in the international world of sport. As a member of the Canadian Olympic Association, Honorary Secretary of FINA's Athletes' Commission, executive Board Member of the Toronto 2008 Olympic bid, and athlete's representative on the IOC's 2004 Site Evaluation Commission, he was devoted to making the voice of athletes heard and promoting the true spirit of sport. He stunned the world in 1999, by stepping down from all his posts within the Olympic movement due to a loss of faith in leadership, as derived from the IOC's bribery scandal. He went on to co-found OATH (Olympic Advocates Together Honorably), the first independent, international, athlete-lead organization in the world dedicated to restoring the Olympic spirit and creating constructive solutions to the problems facing international sport. Mark is currently working as the chair of OATH.
Heart has always been the art of Mark Tewksbury that has made him a charismatic Olympian and compassionate humanitarian. As a motivational speaker, Mark continues to mesmerize groups of all ages with his honesty, sincerity, genuineness, humor and story telling. He has made frequent appearances on Canada's AM, CNN, ABC's "Good Morning America" and "Nightline" as well as at various special events. In 1993, he launched the Mark Tewksbury Junior Swim Bursury to provide program and financial assistance to young swimmers across Canada. He has been a spokesperson for Children's Miracle Network, AIDS Walk Canada and Special Olympics where he served on the National Advisory Board.
Mark attended the University of Calgary (1986-1989) and graduated from the University of New South Wales (1995) in Sydney, Australia with a degree in Political Science.