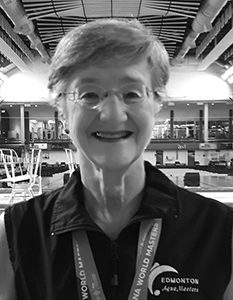 Marjorie Anderson (CAN)
Honor Masters Synchronized / Artistic Swimmer (2019)
The information on this page was written the year of their induction.
INTERNATIONAL HIGHLIGHTS: 8 FINA MASTERS WORLD CHAMPIONSHIPS 1994-2017; 18 MEDALS (8 GOLD, 9 SILVER, 1 BRONZE); NUMEROUS MEDALS IN CANADIAN NATIONAL CHAMPIONSHIPS.
Seeing the Santa Clara Aquamaids, team of eight, all in silver suits and crowns, swimming to "Champagne on Ice" was a moment Marjorie Anderson will never forget. The year was 1969 and she was at the Canadian Amateur Swimming Championships. It was then that Marjorie became hooked on what would become her lifelong passion – synchronized swimming!
It wasn't until her fifth year at the University of Alberta, while she was completing her nursing degree, that she was able to join the synchronized swimming team as a junior coach and even swim a bit. A couple years later, she moved to London to work and found a small synchro group to swim with. Marjorie says, it was great fun finding the various swimming baths around central London, which were old and quite cold!
She returned home to Edmonton for good in 1982 and rejoined the Aquadettes as both coach and swimmer. As her work as an ICU nurse became too intense, Marjorie found she only had time for swimming. She began to compete in provincial Masters competitions, followed by national and finally, international competitions.
Her first international competition was in the very first World Masters Games, held in Toronto in 1985 where she struck gold in the team event. When the FINA World Championships were held in Montreal in 1994, she went and conquered with a gold in duet and two silvers, in solo and team. Anderson has been a fixture at or near the top of the standings at FINA Worlds and Canadian Nationals ever since.
Marjorie has attended eight FINA Masters World Championships between the years 1994-2017, winning 18 medals, eight gold, nine silver and one bronze. She has also won numerous medals at the Canadian National Championships.
Since retiring from nursing in 2002, Marjorie has taken coaching and judging courses. She is now a Level 2 judge, which means she can judge at the provincial level. One of the women she coaches is in her 90s and still swimming synchro recreationally. Marjorie hopes to continue swimming and perhaps be competing into her 80's.
Anderson has a firm belief about synchronized swimming: "This is an excellent sport you can do forever!" And, at age 78, she must be doing something right…