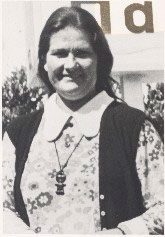 Marion Kane (USA)
Honor Coach (1981)
The information on this page was written the year of their induction.
FOR THE RECORD: Founder of San Francisco Merionettes and coach for 18 years; Developed 51 National AAU Synchro Champions; Her champions won 303 first place National and International Awards; Leader in the field of coaching and promoting international synchronized swimming, giving hundreds of clinics and lectures spreading innovative techniques throughout the U.S. and to 27 countries; Helms Hall of Fame: 1967; Her swimmers won 67 U.S. National AAU Titles (18 solo, 27 duet, 22 team), plus 32 Senior and Junior National AAU stunt titles, 29 major international titles (including the 1971 Pan American Games, and 18 Senior National high point team championships).
Marion Olson Kane Elston is one of the most successful coaches in any sport. She was a Junior National AAU Speed Swimming Champion; finalist in 13 Senior National AAU Swimming Championships; Northern California, Hawaii National Age Group, and Golden Gate Swim record holder; and the world's first great synchronized swimming coach. Her magnificent Merionettes of San Francisco dominated synchronized swimming for 14 years with 51 National AAU Champions — a record that is first in time, first in number and second to none with 303 first place national and international titles in an era when synchronized swimming was a no-no at the Olympics. She did most to create the quality and class that gave her sport the world recognition that led to World Championships and Olympic acceptance. Since 1974 she has conducted the Marion L. Kane International Synchro School in Santa Rosa, California, the only school of its kind in the world.