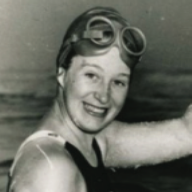 Marilyn Bell (CAN)
Honor Open Water Swimmer (2022)
The information on this page was written the year of their induction.
FOR THE RECORD: FIRST PERSON TO SWIM ACROSS LAKE ONTARIO (51.5 KM/32 MILES) & FIRST WOMAN ATLANTIC CITY (36.2 KM/22.5- MILES) RACE IN 1954, IN 1955, YOUNGEST EVER TO SWIM THE ENGLISH CHANNEL (34 KM/21 MILES), AND IN 1956 FIFTH EVER TO SWIM THE STRAIT OF JUAN DE FUCA.
In the mid-1950's, most school girls liked to sing in the choir, play badminton and go swimming. This girl was different. Instead of splashing around on warm summer afternoons, Marilyn Bell liked to swim in waters that were freezing. She could tackle up to 15-foot waves and she liked to swim very long distances, for hours at a time. She was not like most school girls.
Bell may not have been the fastest one in the pool, but her coach, Gus Ryder saw that she had heart and she could  swim long distances and never tire. What he saw was the makings of a Marathon Swimmer. The July 1954 'Around the Island Swim' in Atlantic City would be extremely significant for Bell. It was the first  swim of Bell's professional career. And there in Atlantic City, she would meet and begin a secret romance with a  certain Atlantic City Lifeguard which would go on to produce 50 years of a wonderful marriage, four children, and  numerous grandchildren. Marilyn often referred to that lifeguard, Joe DiLascio as 'the best trophy I ever won". 
Returning from Atlantic City, the news was out that the Canadian National Expedition (CNE) had offered American swimming star, Florence Chadwick, $10,000 to swim across Lake Ontario to promote the event. The CNE was criticized for not inviting any Canadians swimmers. They eventually relented. They invited swimmers as part of a relay. Bell decided to swim it solo and was famously quoted as saying, she "did it for Canada."
Technically uninvited, and not offered any type of purse money, Bell jumped in at about 11:00 pm, shortly behind Chadwick. Just after 6:00 am, Chadwick and the only other participant, Winne Roach, gave up due to stomach cramps, and vomiting. Bell also had to deal with lamprey eels, cold water and high surf. But she kept swimming.
It took Marilyn 20 hours and 59 minutes, to finish the 32-mile swim, although with the current, it was assumed she swam much further. When she finally reached the breakwater in Toronto, that now bears the name, she was greeted by 300,000 well-wishers!
Not only was Marilyn awarded the $10,000 purse, originally for Chadwick, but gifts started coming in as well. She was given a brand-new automobile, diamond ring, two chinchillas, valued at $1,000 a piece, a silver tea service, matching luggage, a month's supply of meat and a collie dog, and this was only a portion of the spoils that 16-year old Marilyn Bell got for the most rewarding swim in history. The Canadian Press even named her the Canadian Newsmaker of the Year, in 1954.
Marilyn went on to become the youngest person, at only 17 years of age, to swim the English Channel, on July 31, 1955. She made the crossing in 14 hours and 36 minutes. The City of Toronto then held its second ever ticker tape parade in Bell's honor, drawing a crowd of over 100,000 fans.
After one last swim of the Straits of Juan de Fuca in B.C. Marilyn decided it was time to return to school and retire from Marathon swimming in 1956. She was considered a hero in the eyes of her fellow Canadians
Marilyn has been inducted into four Halls of Fame: the Ontario Aquatic Hall of Fame, Canadian Swimming Hall of Fame, Canada's Sports Hall of Fame, and the International Marathon Swimming Hall of Fame. She continues to be involved in Marathon and long-distance swimming, and with today's technology, it's like she can be right there on the support boat with the swimmers, giving them as much support and motivation as she can.