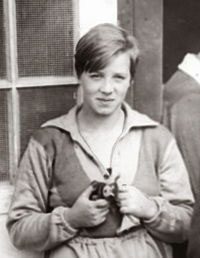 Marie Braun (NED)
Honor Swimmer (1980)
The information on this page was written the year of their induction.
FOR THE RECORD: OLYMPIC GAMES: 1928 gold (100m backstroke), silver (400m freestyle); WORLD RECORDS: 6 (100m, 200m, 400m backstroke; 500m freestyle); EUROPEAN CHAMPIONSHIPS: 1927 gold (400m freestyle); 1931 gold (100m backstroke, 400m freestyle relay); First under 3:00 minutes in 200m backstroke World Record in 1928; DUTCH NATIONAL RECORDS: 25 (100m, 200m, 400m, 500m, 1000m, 1500m freestyle; 100m, 200m backstroke); EUROPEAN RECORDS: 4 (400m freestyle; 100m backstroke; 1 relay).
Marie "Sis" Braun was the Netherlands best swimmer during a period when her Hall of Fame mother was the country's best coach. Seldom does a swimming coach succeed in the dream of her own son or daughter being a champion. Certainly "Sis" did just this for "Ma" Braun with an Olympic gold in the 100m backstroke and a silver in the 400m freestyle. She was the dominant woman swimmer of her time in Dutch and European swimming setting six world and 25 Dutch records during the five year period 1927-1932.