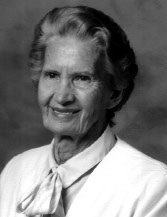 Maria Lenk (BRA/USA)
Honor Masters Swimmer (2008)
The information on this page was written the year of their induction.
INTERNATIONAL HIGHLIGHTS: World Points – 1076, Pre-1986 Points-0. Total Points: 1076. Since 1986, she competed in 5 age groups (70-74 thru 90-94). 37 FINA MASTERS WORLD RECORDS.
A native of Brazil, Maria was a pioneer in the evolution of the butterfly stroke. She, along with Jeanette Campbell of Argentina, did more to advance the status of Latin American women in athletics than any other person . Maria was the first South American woman to participate in an Olympic Games (1936) and she is credited with being the first woman to swim butterfly-breaststroke in the Olympic Games in 1936, if not the world.
It seemed only natural that she would always be a swimmer, so when Masters Swimming became recognized by FINA, she was ready. While competing for both Brazil and the USA, Maria was in the FINA Masters Top 10 for 20 years until her death in 2007. She set a total of 37 FINA Masters World Records in all strokes and the individual medley, 17 long course and 20 short course. Since 1986, she competed in 5 age groups from 70-74 through 90-94.
Maria had 59 number one long course rankings and 24 number one short course rankings, for a total of 83 number one world rankings. She competed in eleven FINA Masters World Championships beginning in 1986 in Tokyo, winning a total 37 gold, 12 silver and 5 bronze medals.