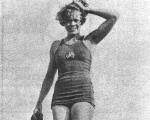 Margaret Woodbridge (USA)
Honor Pioneer Swimmer (1989)
The information on this page was written the year of their induction.
FOR THE RECORD: OLYMPIC GAMES: 1920 gold (400m freestyle relay), silver (300m freestyle); NATIONAL RECORDS; (200yd, 500yd freestyles). Member of the first U.S. Olympic Women's Swimming Team.
The 1920 Antwerp Olympic Games were the Games that introduced the Olympic flag, the Olympic oath, and the first US Olympic Women's Swimming Team which won every medal they were capable of winning. Margaret Woodbridge, who qualified as an alternate on the team, played a major role in the winning of medals.
In the year that Hall of Famer, Ethelda Bliebtrey, won the gold in all three of the women's events of Antwerp, Margaret was right with her. She won the silver medal in the 300 meter race and won her gold medal as a member of the winning 400 meter freestyle relay team that shattered the Olympic record set by the team from Great Britain in 1912.
A Matt Mann swimmer from the Detroit Athletic Club, Margaret set national records in the 200 and 500 yard freestyles and offered stiff competition for the dominant Women's Swimming Association team of New York.
Margaret represented the youthful, fun-loving competitor at an age when the world was trying to forget the tribulations of war and when emphasis was being placed on personal performance in the beginning of the Roaring '20s.