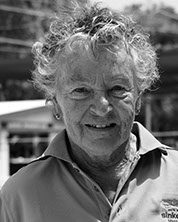 Margaret Cunningham (AUS)
Honor Masters Swimmer (2016)
The information on this page was written the year of their induction.
INTERNATIONAL HIGHLIGHTS (SWIMMER): World Points – 906, Pre-1986 Points- 0. Total Points – 906. Since 1986, she has competed in five age groups (60-64 through 80-84); 34 FINA MASTERS WORLD RECORDS
Margret Cunningham swims one kilometer, five times a week. That may not seem like a lot, but when you're swimming in the 90-94 age-group, you tend to be quite an inspiration to all other members of the club. Margaret swims at the Pioneer Swim Center with the North Mackay Sinkers Masters Swimmers Club in Queensland, Australia.
Cunningham was born in Inverness, Scotland and says she's been swimming for more than 80 years. In 1939 and 1946, Margaret was the Scottish Junior Champion in the 100 yd freestyle. In 1946 and 1947, she was awarded the "Athletics Full Blue", the University colours top award for sport at St. Andrews University, where she was a student. In 1948, she was Awarded Outstanding Athlete of Scotland and she attended the World University Games in Budapest, where she placed third in three events and fourth in another. She won the 50 and 100 yd freestyle and 50 yd backstroke at the British University Games in Liverpool in 1949.
She married in 1958 and ten years later, began coaching at the Woking Swimming Club in Surrey, England. In 1978, she received the Royal Life Saving Society President's Commendation.
Margaret and her family moved to Australia in 1985 and it was then that she got involved in Masters Swimming. She discovered she was good at it and won most of her events. Margaret says she has always had a competitive streak, even now, if she doesn't medal, she's quite disappointed.
Margaret Cunningham has been in the Top Ten for a total of 23 times. She has set 14 long course and 20 short course FINA Masters World Records, mostly in the freestyle, fly and individual medley events. She has competed in five FINA World Championships since 1986, winning 12 gold, eight silver and four bronze medals. Although she may not have many people in her age group, that doesn't stop Margaret. She still breaks records, both state and national at most local meets she enters. Margaret has broken numerous world records in the freestyle and butterfly events in a variety of age groups.
She competed at her first World Championships in Tokyo, Japan where she won three silver in the 50, 100 and 200 meter freestyle and one bronze in the 50 meter fly. She competed in her second world championships in Brisbane in 1988 where she won two gold in the 50 and 100 free and two bronze in the 100 breast and the 100 fly. She competed in Rio in 1990, where she won four gold in the 50, 100 and 200 free, as well as the 50 fly and a silver in the 200 IM. She competed in Sheffield in 1996; she won four more gold, this time in the 50 breast, 50 free, 100 and 200 free and took silver in the 50 fly. Margaret's last trip to a World Championships was to Perth in 2008. She won two gold in the 50 and 100 free and a silver medal in the 50 fly.
Although she is still physically and mentally fit, at 91, which she attributes to swimming, she thinks it may be about time to hang up her suit. "I am still competitive, but I am getting a bit old and stiff." She thinks 2016 may be her last year of swimming competitively. We certainly hope not!