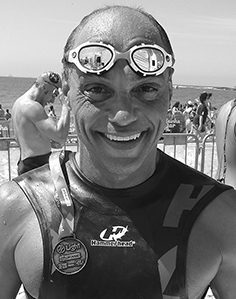 Marcus Mattioli (BRA)
Honor Masters Swimmer (2018)
The information on this page was written the year of their induction.
INTERNATIONAL HIGHLIGHTS: World Points-665, Pre- 1986 Points-0, Total Points-665; Since 1988, he has competed in 4 age groups (25-29; 45-49 through 55-59). 20 FINA MASTERS WORLD RECORDS.
A swimmer his entire life, Marcus Mattioli competed in three individual events for his native country of Brazil at the 1980 Summer Olympics in Moscow. While he didn't final in any of the events, he did swim the second leg on the bronze medal winning 4×200 freestyle relay team – Brazil's only swimming medal at the 1980 Olympics. Mattioli is one of just 13 swimmers to win an Olympic medal for Brazil.
Mattioli retired from competitive swimming in 1988 but transitioned quickly to Masters swimming. At the 1988 FINA Masters World Championships in Brisbane, he set six Masters World Records.
After that meet, Marcus stopped swimming and exercising and put on 70 pounds. When he came back to swimming in 2004, it was with the idea to lose that extra bulk and to regain a healthier lifestyle. In the process, he not only regained his shape, but his form as one of the best Masters swimmers in the world. At the 2006 FINA Masters World Championships in Palo Alto, Mattioli set two new Masters World Records, winning two gold and two silver medals.
Since his return, Mattioli has been on the Top Ten list every year, for a total of 15 times. He was recognized by Swimming World Magazine as being one of the twelve best Masters swimmers of 2011. He has accumulated 29 gold medals at the FINA Masters World Championships, and four silver medals since 1988, and has set 14 long course and six short course FINA Masters World Records in the freestyle, butterfly and I.M.
At the age of 57, Mattioli is as active as ever. He is one of Brazil's most celebrated Masters swimmers, becoming just the second athlete from the country to be inducted into the International Masters Swimming Hall of Fame.
He still swims daily and he teaches at the Kaio Marcio Aquatic Center and runs his Vila Mattioli Leisure Center.