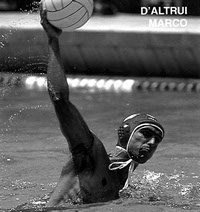 Marco D'Altrui (ITA)
Honor Water Polo (2010)
The information on this page was written the year of their induction.
FOR THE RECORD: 1992 OLYMPIC GAMES: gold; 1984, 1988 OLYMPIC GAMES: 7th; FINA WORLD CHAMPIONSHIPS: 1994, gold; 1986, silver; FINA CUPS: 1983-bronze; 1985, 1987-5th, 1989-silver; 1993-gold; 1983 MEDITERRANEAN GAMES: bronze; 1987, 1990 MEDITERRANEAN CHAMPIONSHIPS: gold; 1983 EUROPEAN CHAMPIONSHIPS: 6th; 1985 EUROPEAN CHAMPIONSHIPS: 4th; 1987, 1989 EUROPEAN CHAMPIONSHIPS: bronze; 1993 EUROPEAN CHAMPIONSHIPS: gold.
For the first time in history, the International Swimming Hall of Fame is recognizing a father and son as one, jointly in the same year. This honor goes to three-time Olympic water polo players Giuseppe and Marco D'Altrui of Italy.
Giuseppe "Geppino" D'Altrui was born in Naples on April 7, 1934. He played in over 300 Series A games, from 1952 through 1964. Coached by Hall of Famer Mario Majoni, Giuseppe competed in 75 Italian National Team games from 1954 to 1964. He was a member of the 1956 Italian Olympic Team that competed in Melbourne finishing fourth, but as the Captain of the 1960 Olympic Team, he helped to lead his team to a gold medal victory in front of a home-town crowd at the Rome Olympic Games. He was also Captain of the 1964 Olympic Team that just finished out of the medal count.
Giuseppe's love for the game flowed naturally from his love of being in the water. "I can say that I have spent more time in the water than on earth and for me is never enough!"
Following in the footsteps of famous fathers can be a difficult burden for young athletes and few are the ones who achieve the same level of success. But for Marco, who was born on April 24, 1964, following in the wake of his father came as naturally as learning to swim, which he did before he was three years of age. "For me to stay in the water was a game, fun, a hobby. I was diving and played with the ball in full freedom from the time I was three," says Marco.
From his father's example Marco learned to love the water and the dedication, commitment and time management skills that make a champion. He played in over 700 Series A matches as a member of Recco and Pescara and like his father before him was a member of the national team for ten years. In 1984 and 1988 he was on the Olympic teams that finished 7th in Los Angeles and Seoul. Then, playing for Hall of Fame coach Ratko Rudic, at the 1992 Olympic Games, Marco and the Settebello once again won the gold, 32 years after his father. As a great defensive player, Marco helped to keep his opponents from scoring, resulting in a grand slam of the Italian National Team from 1992-1994 (Olympic Games, World Championships, European Championships) and a grand slam of European Cups (Euro League Cup, Winners Cup, LEN Cup and LEN Super Cup).
"When athletes are young," says Marco, "certainly the most credit goes to parents for their commitment both in terms of organization of management of daily life. I have no regrets at the sacrifices and am delighted to have followed in the footsteps of my father. Perhaps the best thing about the gold medal won in Barcelona was just to see the joy and emotion of my parents when I got off the plane with the medal around my neck. To win the Olympics was a dream that I've always had and it has accompanied me since I played with a small ball in the shallow water. I always wanted to imitate my father, who had won the gold medal at the Olympics in Rome. It goes to show that if you dream it, and work hard, you can do it."