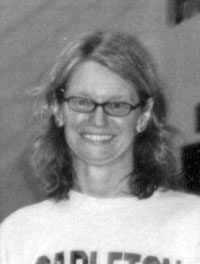 Lynn Marshall (CAN)
Honor Masters Swimmer (2011)
The information on this page was written the year of their induction.
INTERNATIONAL HIGHLIGHTS: World Points-928, Pre-1986 Points-0. Total Points- 928. Since 1986, she has competed in five age groups (25-29 thru 45-49); 28 FINA MASTERS WORLD RECORDS
Lynn Marshall began swimming competitively at age ten with the Manitoba Marlins Swim Club. She has swum competitively pretty much ever since, aside from time off here and there for travelling and injuries. Lynn has always been a freestyler but was considered a sprinter until her last year of University. It was there, she really had to admit she was a distance swimmer.
She heard about Masters swimming from friends, while living in Manchester, where she was earning her Ph.D. She began swimming Masters at age 25 and is still going strong today, competing in the 45-49 age group.
In addition to holding 28 FINA Masters World Records, Lynn has been ranked in the top ten in every year of her 23 years competing in Masters swimming. In world rankings since 1986, she has 18 number one, ten number two and 22 number three long course, 51 number one, 55 number two and 36 number three short course world rankings for a total of 69 number one, 65 number two and 58 number three total world rankings in the freestyle, butterfly, backstroke and I.M.
Lynn also swims in open water events and was the first overall, ahead of everyone including the men, at the Masters 5K championships in 1992 in Indianapolis. She was the first woman overall in the 5K championships in Sheffield in 1996.
Lynn says Masters Swimming has kept her fit and busy for many years. She has been able to do a lot of travelling thanks to Masters swimming, but has come to enjoy the smaller meets much more than the larger ones, although that certainly doesn't preclude travelling. Setting swimming goals has allowed her to get back in shape after many injuries. "And of course, there are all the wonderful people that I've met through Masters swimming over the years!"