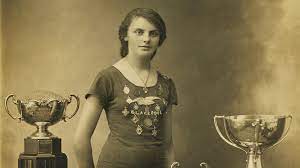 Lucy Morton (GBR)
Honor Pioneer Swimmer (1988)
The information on this page was written the year of their induction.
FOR THE RECORD: OLYMPIC GAMES: 1924 gold (200m breaststroke); WORLD RECORDS: (200yd breaststroke; 150yd backstroke); AMATEUR SWIMMING ASSOCIATION CHAMPIONSHIPS: 1920 (150yd backstroke; 200yd breaststroke).
Lucy Morton became the first British woman to win an Olympic gold medal for swimming at the 1924 Paris Olympics. At the age of 26, she swam a come-from-behind race to beat Britain's world record holder Irene Gilbert. Under the watchful eye of her coach George Swarbrick, Miss Morton held two world records in the 200 yard breaststroke prior to her Olympic victory and would have had a good chance of a gold in 1920, but there were no breaststroke events for women in the Antwerp Games. Lucy also held the first world record for the 150 yard backstroke in 1916 in the days of the English double over-arm and frog leg-kick. In 1920, she was the first Amateur Swimming Association champion in the 150 yard backstroke and 200 yard breaststroke. Lucy Morton retired soon after the Olympic Games, but continued for 42 years as a swimming teacher, coach, official, traveling-team chaperone, and a friend within the sport.