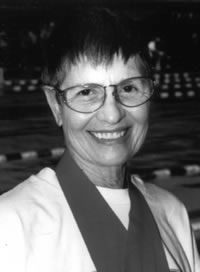 Lois "Kivi" Nochman (USA)
Honor Masters Swimmer (2010)
The information on this page was written the year of their induction.
INTERNATIONAL HIGHLIGHTS: World Points – 1101, Pre-1986 Points-0, Total Points – 1101. Since 1999, she has competed in five age groups (65-69 thru 85-89). 49 FINA MASTERS WORLD RECORDS
Lois Kivi Nochman grew up in Ann Arbor, Michigan, at a time when girls just didn't compete competitively. She learned to swim as a child because her grandparents owned a summer cottage on a lake. She always loved the water – watching it, moving over it, and being in it. Although, Lois never had the opportunity to compete at the high school or collegiate levels, she was noticed by legendary Michigan Coach, Matt Mann. In Lois, he saw something special and allowed her to join his daughter Rosemary in swimming laps.
In November 1987, at the age of 63, Lois swam competitively for the very first time. To her surprise, she set a couple of state records in the 60-64 age group. Apparently, she developed an appetite for victory because she won her first National title six months later, winning the 100 fly at the 1988 YMCA Nationals. In 1990, she won her first two USMS National titles, in the 1500 meter free and 100 meter fly at the USMS Long Course Nationals, where she aged up to the 65-69 age group. That same year, she received her first world ranking.
Since then Lois has accumulated a total of 74 number one, 61 number two and 50 number three total world rankings. Between 1992 and 2009, she has competed in five FINA Masters World Championships winning 14 gold, six silver and two bronze medals. Swimming primarily butterfly and the individual medley, she has set 49 FINA Masters World Records. On April 21, 2007, eighty-two year old Lois Kivi Nochman received the prestigious Lifetime Achievement Award, given to an individual who has demonstrated outstanding contributions and a lifetime dedication and devotion to the objectives of Masters Swimming in Michigan.
Lois says "I am surprised and delighted at being listed as a world-class swimmer. My experiences as a Masters swimmer for the past 20+ years have been most fulfilling, and the people I have met and the challenges I have faced. I am not burned out and I still love the water". Unlike soldiers, Masters swimmers don't fade away, they just keep swimming. "I've seen somebody who's 100 years old at one of our meets." she said smiling. "My friends say 'how can you move like that', because they are limping. I attribute my good health to the swimming."