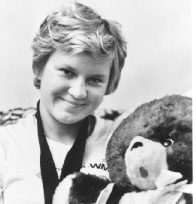 Lina Kaciusyte (URS)
Honor Swimmer (1998)
The information on this page was written the year of their induction.
FOR THE RECORD: 1980 OLYMPIC GAMES: gold (200m breaststroke), 7th (100m breaststroke); THREE WORLD RECORDS: 200m breaststroke; 1978 WORLD CHAMPIONSHIPS: gold (200m breaststroke).
She was born on January 1, 1963 in the town of Vilnius, Lithuania, (formerly a part of the Soviet Union). Not only were the fire crackers heard on that New year's day celebrating the new year, they were celebrating the birth of a baby destined to rise to Olympic and World stardom. Lina Kaciusyte was to become the most dominant breaststroke swimmer of her time.
At the age of 7, in 1970, she was attending the Vilnius Secondary School. Three years later began she began attending swimming workouts at the school pool. Her first coach from 1974 to 1977, Arvydas Graziunas, saw her great potential and guided her in the right direction. By 1976 she was invited to train with the USSR's youth swimming team and, within a year promoted to the USSR National Team. Following another year of hard training, she was ready for the 1978 World Championships of Berlin.
But the world was not ready for Lina. She surprised everyone by winning the 200m breaststroke and setting two world records: one in the prelims, defeating world record holder and teammate Julia Bogdanova, the second when winning the gold medal in the finals. She set the world record a third time the following year at the USSR vs. DDR Dual Meet in Potsdam, a record that stood from 1979 through 1985 when it was finally broken by East Germany's Silke Horner. Lina was the first female breaststroke swimmer to go under the 2 minute 30 second barrier for the 200 meter event. From her inclusion on the USSR National Team, she had dropped an incredible 12 seconds in eighteen months, a breaststroke feat achieved only by Mike Barrowman a few years later. Lina and her breaststroke coach, Boris Zenov, were disappointed that, because of the boycott, the whole world did not compete at the 1980 Olympic Games of Moscow, when she won the gold medal in the 200m breaststroke. Four years later, the USSR did not compete in the 1984 Games of Los Angeles.
Today she is working in different institutions a a translator of Lithuanian, Spanish, English and Russian. but she can't stay away from the pool – in her spare time she coaches swimming.