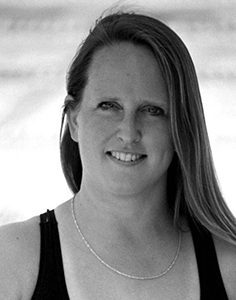 Leadel Bean (USA)
Honor Masters Synchronized / Artistic Swimmer (2016)
The information on this page was written the year of their induction.
INTERNATIONAL HIGHLIGHTS (SYNCHRO): 9 FINA MASTERS WORLD CHAMPIONSHIPS: 22 medals (12 gold, 6 silver, 4 bronze); CANADIAN MASTERS NATIONALS (3 gold); 12 U.S. MASTERS NATIONAL CHAMPIONSHIPS: 35 MEDALS (29 gold, 6 silver); COMPETED IN MASTERS SYNCHRONIZED SWIMMING SINCE 1995.
Her mother is the famous synchronized swimmer, coach, historian and author, Dawn Bean. Her father, Ross, was an All-American swimmer at Cal and also a famous synchro coach and official. Both of her older sisters were synchronized swimmers, so synchronized swimming came as naturally as breathing to Lea Bean.
She began practicing synchro at age seven and went on to win gold medals in the solo, duet and team U.S. Junior National titles in 1982. Her competitive career ended when she decided to attend UCLA, which did not have a synchronized swimming program. She kept involved in the sport by writing for Synchro magazine and volunteering for various synchro related jobs, including being the chief runner/coordinator for the inaugural synchro event at the Los Angeles Olympic Games in 1984.
But the lure of competing again and her love for international travel pulled Lea back into the sport. She joined Masters synchronized swimming in 1996, when she learned that a local club, the Unsyncables, was planning a trip to Sheffield, England to attend the FINA World Championships. The team of seven became a complete team of eight with Lea as a member, and her talent didn't hurt either. The team left Sheffield with a gold medal in the 50-64 age group team event and Lea and her new partner won silver in the duet competition in the 30-39 age group. Not bad for a first time Masters competitor! Lea has attended nine of the 11 FINA World Championships since Sheffield in 1996.
Over the years Lea has contributed to her team, not only as a swimmer but as an assistant coach and choreographer. She has always written her own routines and over the years has helped her teammates create theirs. She helped the club grow from a team of seven members, to five full teams of eight to ten swimmers today. Since she joined, the Unsyncables have won 11 overall U.S. High Point team trophies and a vast amount of medals at the many FINA World Championships they have attended.
For her contributions to the sport, Lea has been awarded the May McEwan Award, US Masters Synchronized Swimming's highest honor.