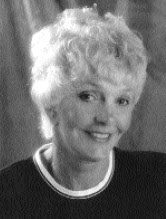 Lavelle Stoinoff (USA)
Honor Masters Swimmer (2006)
The information on this page was written the year of their induction.
INTERNATIONAL HIGHLIGHTS:World Points: 909, Pre-1986 Points: 163, Total Points: 1072; Since 1977, she has competed in six age groups: (40-44 thru 65-69); 36 FINA MASTERS WORLD RECORDS.
She grew up in Oregon and developed a love for swimming at an early age developing into a high school state champion and record holder. Her individual specialty … distance swims. She was a star of the Columbia Athletic Club's "Aquanettes", water ballet team. She competed at the 1952 Olympic tryouts but, without the women's 1500-meter event, it was impossible for her to place. Soon after, she went to college and retired her suit.
At 39, seeing her daughter swim, Lavelle Stoinoff decided to jump back in! A disappointing finish in her first meet was all it took for her to get serious again. She joined the prestigious Multnomah Athletic Club, but the club did not have a Masters swimming program. Lavelle's coaches, Skip Runkle and Steve Roth suggested she train with the junior swim team. With hard work and dedication, she wound up swimming some of the best times of her life.
For two decades, when competing in swims 400 meters and up, her wake was all that other swimmers could touch. Lavelle attributed much of her success to her training schedule, 4000 yards five to six days aweek,weights, cords and running twentymiles aweek. Lavelle even proved her doctors wrong, making an astonishing comeback after surgery for two torn rotator cuffs.
All told, she has swum to 38 FINA Masters World Records while competing in seven different age groups beginning in the 40-44 group. Her accomplishments speak for themselves. Lavelle was recognized as the 1998 Masters Swimmer of The Year and her swim club, Multnomah Athletic Club established an award in her name to perpetuate her spirit. After 50, most believe that it is all downhill, Lavelle proved otherwise continuously breaking records with new times. Her winning spirit is an inspiration to all, both young and old.