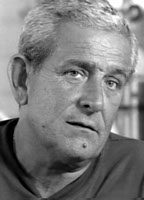 Laszlo Kiss (HUN)
Honor Coach (2012)
The information on this page was written the year of their induction.

FOR THE RECORD: 40 YEARS WOMENS NATIONAL TEAM COACH; COACH OF SWIMMERS WINNING SIX GOLD, TWO SILVER, TWO BRONZE OLYMPIC MEDALS; 45 YEARS COACH OF SPARTACUS CLUB TEAM IN BUDAPEST (1963-2008); COACH OF SWIMMERS BREAKING THREE WORLD RECORDS; COACH OF SWIMMERS WINNING FOUR GOLD, TWO SILVER AND TWO BRONZE MEDALS IN WORLD CHAMPIONSHIP COMPETITION; COACH OF SWIMMERS WINNING 17 GOLD MEDALS AT EUROPEAN CHAMPIONSHIPS; HUNGARIAN COACH OF THE YEAR FOR ALL SPORTS: 1991,1992,1993, 1996, 1997, 1998, 2000.
Every so often, a coach will come along who has the ability to lift his swimmers to new heights, as Laszlo Kiss did establishing Olympic champions.
Kiss was a 1960 Olympic swimmer who was disappointed when he failed to win a medal. American champion Mike Troy offered him some training tips which Kiss applied to a new team he began coaching three years later. From then on, Kiss never looked back, and for almost 50 years continued to develop Olympic champions.
As head coach of Budapest's Club Spartacus Team, he later became the Hungarian National Team Coach for women for an unprecedented 40 years, continuing to develop swimmers from the grass roots level to Olympic champions.
His greatest swimmer was a thin little girl he developed from age five to become the greatest backstroke swimmer, perhaps of all time, Krisztina Egerszegi. Egerszegi is only the second woman, after the great Dawn Fraser, to win the same event in three successive Olympic Games when she won the 200 meter backstroke in 1988, 1992 and 1996, while winning the most gold medals by a female in individual events with five gold medals.
Other swimmers include Agnes Kovacs, who won the gold medal in the 200 meter breaststroke in Sydney, and the bronze medal in the 200 meter breaststroke in Athens. Karoly Guttler won breaststroke silver and bronze medals in Barcelona, 1992 and Atlanta, 1996. All totaled, his swimmers have won six gold, one silver and two bronze medals at Olympic Games and 23 medals at the European Championships, 17 of them gold. Between 1991 and 1999, Kiss was elected Hungarian Coach of the Year seven times for all sports.
From this small country of ten million people, Laszlo Kiss joins the other great Hungarian Hall of Fame coaches who have developed outstanding swimmers including Stefen Hunyadfi, Imre Sarosi and Tamas Szechy.