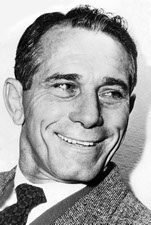 Larry Griswold (USA)
Honor Pioneer Diver (2010)
The information on this page was written the year of their induction.
FOR THE RECORD: KNOWN AS THE WORLD'S GREATEST COMEDY DIVER; PERFORMED IN COMEDY WATER SHOWS THROUGHOUT THE WORLD; COLLABORATED TO INVENT THE TRAMPOLINE; "THE DIVING FOOL" WAS WORLD FAMOUS AS: Acrobat, Diver, Inventor, Author, Coach and Teacher.
The land-locked State of Iowa had a knack for producing aquatic competitors in the firsthalf of the 20th century. Famous for its swimmers, Olympic cham-pion Wally Ris and coach Dave Armbruster, divers Lyle Draves and Kent Fer-guson and synchronized swimmer Beulah Gundling, non the least was Larry Griswold, a 1932 graduate of the University of Iowa and a four varsity letterman in diving, wrestling, track and fieldand gymnastics. With these talents, he became known as the greatest water show performer of all time and the "Diving Fool" could make easy stunts look difficultand difficult stunts look easy. He performed his slap-stick diving act everywhere from county fairs to the Moulin Rouge in Paris, two Worlds Fairs and even command performances for royalty.
In 1933, he initiated the firs tannual Iowa Circus featuring tumbling, bicycle racing, roller hockey, tap dancing, flying rings, tight wire, clowning, teeter board and more. He could do all the stunts. His forty-two foot high trapeze and "Drunken Clown" acts stole the show. He performed in the 1937 Water Follies and 1939 World's Fair for Billy Rose. He was soon billed as the "World's Greatest Comedy Diver". In 1934, he collaborated with George Nissen to invent the trampoline and take his act on vaudeville. In 1945, a sinus problem made it impossible for him to continue his water act, so he used the trampoline in place of the pool. Venues found it easier to accommodate a trampoline than a pool and he landed major TV shows – Frank Sinatra, Jackie Gleason and Ed Sullivan.
Larry Griswold Over the years the "Clown Prince of the Diving Board" suffered a broken neck, pelvis, torn biceps, knee injuries and more forcing him to retire in 1973, a stellar 45 years of performances.