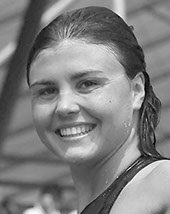 Larisa Ilchenko (RUS)
Honor Swimmer (2016)
The information on this page was written the year of their induction.
FOR THE RECORD: 2008 OLYMPIC GAMES: gold (10km); 2004 WORLD CHAMPIONSHIPS: bronze (5km); 2005 WORLD CHAMPIONSHIPS: gold (5km); 2006 WORLD CHAMPIONSHIPS: gold (5km, 10km); 2007 WORLD CHAMPIONSHIPS: gold (5km, 10km); 2008 WORLD CHAMPIONSHIPS: gold (5km, 10km); 2009 WORLD CHAMPIONSHIPS: silver (5km); 2006 EUROPEAN CHAMPIONSHIPS: bronze (5km)
This eight-time World Champion was unbeatable in major international competition beginning with her 2004 debut in Dubai as a 16-year-old, to her dramatic victory at the inaugural Olympic open water race at the 2008 Olympic Games in Beijing.
Larisa Ilchenko was born in 1988, in the Russian city of Volgograd. She began swimming at age four, to build up her strength, but when she began winning competitions, she decided to become a serious competitive swimmer. The 200 and 400-meter freestyle were Larisa's favorite distances, but she was also quite successful on relay teams, too. She tried open water swimming for the first time in 2004. Although she placed third in the Russian championships in the 5k, her coach decided to take her to the FINA World Championship event in Dubai, over the second place finisher. At age 16, she surprised everyone by beating American Sara McLarty, and won the gold in the 5k by over 30 seconds. Many people in the open water community thought it was a fluke, but Larisa was determined to prove everyone wrong.
She did just that the next year when she won the 5K race at the FINA World Aquatic Championships in Montreal. At the 2006 World Open Water Championships in Naples, Italy, she swam to gold in both the 5K and 10K races, a feat she would repeat at the 2007 FINA World Aquatics Championships, in Melbourne, Australia and the 2008 World Open Water Championships in Seville, Spain.
Three months after her victories in Spain, she competed in the Olympic Games in Beijing, where the 10K Open Water Swimming event became part of the Olympic program for the first time. Larisa Ilchenko won the first gold medal presented in Olympic competition for open water swimming.
It has been said that Larisa Ilchenko was if nothing, predictable. She swam all her races with a proven open water strategy, now dubbed, "The Ilchenko". She lagged just behind the leaders, drafting off them during 90% of the race, saving the majority of her energy before unleashing herself on the pack with a sprint in the final 200-400 meters. This strategy is now very typical of the world's very best open water swimmers. It was that strategy that won her five consecutive 5k World Championship titles, as well as titles in the three major pre-Olympic 10k races.
Swimming World Magazine named her Open Water Swimmer of the Year in 2006, 2007 and 2008. She had eight world titles and one Olympic gold under her belt when she decided to retire in 2010. Larisa Ilchenko will always be remembered as the first gold medalist in the women's Marathon 10km Open Water Swimming event in Olympic history.