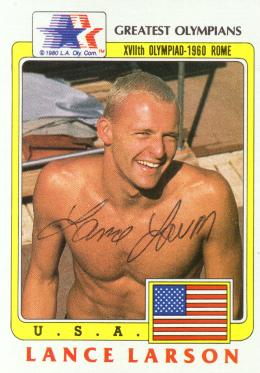 Lance Larson (USA)
Honor Swimmer (1980)
The information on this page was written the year of their induction.
FOR THE RECORD: OLYMPIC GAMES: 1960 gold (medley relay-buttefly leg), silver (100m freestyle); WORLD RECORDS: 5 (100m, 110yd butterfly, 2 relays); NATIONAL AU Titles: 8 (100yd freestyle; 100yd butterfly; 200yd individual medley; 3 relays); NCAA CHAMPIONSHPS: 2 (200yd individual medley; 400yd freestyle relay); AMERICAN RECORDS: 18 (200yd, 200m individual medley; 110yd, 100m butterfly; 6 freestyle and medley relays). First man to break a minute for the 100m butterfly.
Lance Larson was the first man in the world to go under a minute for the 100m butterfly. He was also the first high school swimmer to break the 50 second barrier in the 100 yd. freestyle. He won his Olympic gold medal on the butterfly leg of the 400m medley relay with a split time of 58.0 seconds (another world record) at the 1960 Rome Olympics yet is best known for the controversy over his dead-heat 100m freestyle silver medal in the same Games, the last in which judges' eyeball decisions were given precedence over automatic judging devices.* A superb all-around swimmer at the University of Southern California in the four-stroke individual medley, the butterfly, and the sprint crawl, Larson won AAU Nationals in all three.
*The Rome Olympics were staged in the days before automatic timing and judging. In the closing stages of the 100m freestyle, Larson, in an adjacent lane to Devitt, had surged forward with amazing speed. Two of the three first place judges gave Devitt their vote. Two of the second place judges put Devitt second. Of the six officials there, three by implication thought the Australian had won and three favored the American. The timekeepers had no doubt. They gave Larson 55.0, 55.1 and 55.1 against 55.2, 55.2 and 55.2 for Devitt. The unofficial manually-operated judging machine which recorded the touch on three paper tapes made Larson the clear winner. Despite all this evidence, Devitt was awarded the gold in an Olympic record of 55.2 thanks to a judging casting vote by the referee who technically did not have a vote! Larson got the silver and his time changed to 55.2. (Pat Besford, "Encyclopedia of Swimming").