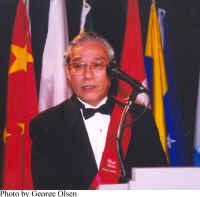 Kouji Katoh (JPN)
Honor Coach (2001)
The information on this page was written the year of their induction.
FOR THE RECORD: He is REGARDED AS ONE OF THE GREATEST ASIAN SWIMMING COACHES. Coach of OLYMPIC GAMES: 1968,1972,1976,1984; Coach of 39 OLYMPIC SWIMMERS; Coach of OLYMPIC GOLD MEDALIST – Mayumi Aoki; Coach of WORLD CHAMPIONSHIP TEAMS: 1975,1978,1982; Coach of 23 WORLD CHAMPIONSHIP SWIMMERS; Coach of 2 WORLD CHAMPIONSHIP MEDALISTS – Suzu Chiba (bronze, 1991), Ayari Aoyama (silver, 1998); Coach of 56 ASIAN CHAMPIONSHIP SWIMMERS winning 47 GOLD MEDALS; Coach of 54 swimmers winning 172 NATIONAL CHAMPIONSHIPS and setting hundreds of NATIONAL RECORDS; Coach of Itoman Swimming School, since 1973; General head coach/Director of 110 schools with 230,000 members; Member: Japan Amateur Swimming Federation, Osaka Swimming Association, Japan Swimming Coaches Association (Director), World Swimming Coaches Association (Board Member); Evaluates young Japanese coaches' skills; Known as one of the greatest Asian swimming coaches.
Japan is a country with a rich history in competitive swimming. Coaches like Hall of Famer Katsuo Murakami as well as Shigetaka Suzuki and Kiyoshi Koyanagi all played an important part in the country's development as a swimming powerhouse. Where Murakami left off as Olympic coach in 1964, Kouji Katoh succeeded, becoming Japan's Olympic coach in 1968,1972, 1976 and 1984 and coaching thirty-nine swimmers to Olympic competition. His swimmer Mayumi Aoki won the 100m butterfly at the 1972 Munich Olympics, only the second female swimmer from Japan to win an Olympic gold medal (Hideko Mahata,1936, 200m breaststroke was the first).
As a 1964 graduate of Wasada University, famous for it's swimming alumni such as Hall of Famer Yoshi Yamanaka, Katoh established the Yamada Swimming Club, developing numerous national and international medal winners. In 1971, he introduced and initiated stroke analysis by using waterproof lights and high-speed cameras to take photos to analyze a swimmer's stroke pattern and speed. By swimming in a dark pool, a camera picks up the pattern. Olympic gold medalist Mayumi Aoki used her coach's success in these findings to help her succeed. In 1973, Coach Katoh started and became general head coach and director of the Itoman Swimming School, a part of the I.S.S. Co., Ltd. As executive director, he oversees 110 schools and 230,000 members.
He coached the 1975,1978 and 1982 World Championship teams. His swimmers, Suzu Chiba and Atari Aoyama, respectively won bronze at the 6th World Championships in Perth and silver in the 100m butterfly at the 8th World Championships. Over 23 of his swimmers have competed in World Championship competition.
Katoh's swimmers dominated the Asian Championships of 1970 (Bangkok) and 1974 (Tehran) and won a total of 47 gold medals. His swimmers have earned 172 National Championship titles and have set many more Japanese records. His women's team of 1974 won all the races.
He serves as a member of the Japan Amateur Swimming Federation, the Osaka Swimming Association and as a director of the Japan Swimming Coaches Association. He makes an energetic effort to help evaluate, educate and promote young Japanese coaches' skills.