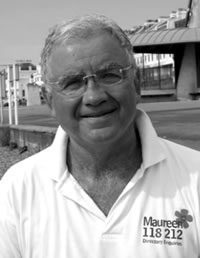 Kevin Murphy (GBR)
Honor Open Water Swimmer (2009)
The information on this page was written the year of their induction.
FOR THE RECORD: THREE TWO WAY CROSSINGS OF THE ENGLISH CHANNEL: 1970, 1975, 1987; 34 ENGLISH CHANNEL CROSSINGS; NORTHERN IRELAND SCOTLAND: 1970, 1971, 1989 (11H 21MIN); LOCH NESS: 1976 (23 MILES); RICHMOND TO GRAVESEND – RIVER THAMES: 42 MILES; THE WASH: 1973 (17 MILES); LOCH LOMOND: 1967 (15H 4MIN); LAKE WINDERMERE TWO WAY:1969 (21MILES);EIGHTLAKE WINDERMERE CROSSINGS; LAKE TAHOE: (21+MILES); CATALINA CHANNEL: (22+MILES); CHICAGO SHORELINE: (30+MILES); AROUND MANHATTAN: (27 MILES); LAKE BALATON: (48 MILES); LAKE COMO: (30 KM); MAJORCA TO MINORCA: (25 MILES); MARATHON DU SAGUENAY: (42 KM); CAPRI TO NAPLES: (23 MILES); NILE MARATHON: (20 MILES); LAKE WINDERMERE INTERNATIONAL: (25 KM).
On an August day in 1968, wearing his cap and goggles, Kevin Murphy stood on the stony Folkstone's Shakespeare beach ready for his first crossing as a swimmer of the English Channel. During the next 41 years, he successfully completed the Channel 34 times, making him, The King of the English Channel with the most crossings by a male. Kevin became one of the greatest solo swimmers of all times.
In 1970, 1975 and 1987, he completed two way swims of the Channel. In 1970, he challenged uncharted cold waters swimming from Northern Ireland to Scotland in 11 hours 21 minutes in water 10 degrees C, a record that stood for 18 years. And in 1989, he repeated the Irish Sea swim. He set an inaugural record for swimming the 56 miles around the Isle of Wright in 26 hours, 51 minutes. He spent 52 hours, 30 minutes in the English Channel trying for a triple crossing but ending just short of the goal with a double crossing. He is the only man to have completed three two way crossings of the English Channel. He swam frigid Lake Windermere seven times including a double crossing in 1969. Most of his swims have been over 21 miles and include Loch Lomond, Loch Ness and Bristol Channel in Britain, Lake Tahoe, Catalina Channel, Chicago Shore Line and around Manhattan in the USA, Lake Balaton, Hungary(48 miles), Capri to Naples, Lake Hergozzo and six times Lake Como in Italy, The Nile Marathon, Egypt, the Spanish Balearic Island and 22 other International swims. Many of his swims he swam multiple times. He has completed over 73 swims of 10 miles or more with most of the swims over 21 miles.