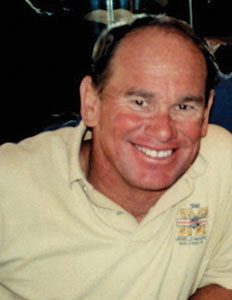 Kerry O'Brien (USA)
Honor Coach (2021)
The information on this page was written the year of their induction.
Kerry's commitment to the sport of Masters swimming has been an endeavor that has lasted a lifetime. His contributions and service to Masters have focused on all aspects of the sport during his 40-year coaching career, leading Walnut Creek Masters as one of the USMS's largest teams.
Kerry O'Brien has been involved in swimming since an early age. He swam through college at Hayward State (California) with Coach Jim Delacy. In 1978, he joined Mike Hastings, part-time, coaching the age-groupers, at the Walnut Creek AAU Swim Club.
In 1980, O'Brien was hired to coach the Walnut Creek Masters on an interim basis. The following year, he was hired as the Masters Head Coach at Walnut Creek, where he served continuously until his retirement in January 2021.
Under Kerry's leadership and coaching, Walnut Creek Masters became a USMS Gold Club, growing from just 70 members to more than 450. The club has been ranked among the best at USMS National Championships and is considered a model club in the U.S. It's philosophy is that participation in aquatics should be a life enhancing experience.
O'Brien has been recognized for his success. He received the United States Masters Swimming Coach of the Year award in 1987, was selected Pacific Masters Coach of the Year in 1992, received the Lifetime Achievement Award in 2000 and was named Pacific Masters Contributor of the Year in 2016. In 2008, quite the honor was bestowed on O'Brien, when USMS renamed their Grassroots Coaching Award, the USMS Kerry O'Brien Coaches Award. The award is given annually to a coach who displays passion, dedication, and heart on the pool deck and helps build membership in their swimming communities.
They say a coach's greatest success can be seen in the results of his/her athletes. Kerry's swimmers have set 153 individual FINA Masters World Records and 13 relay FINA Masters World Records. The club has won 35 Nationals Team Championships (Women, Men, and Combined). The Walnut Creek Masters have won nine USMS National Championships, 70 Pacific Masters LMSC Team Champions (SCY;LCM;SCM), and Walnut Creek was the 2007 USMS Club of the Year.
Kerry himself is considered an elite swimmer in his own right! He is always ranked in the top echelon of his age group. O'Brien joins three of his athletes into the Masters International Swimming Hall of Fame: Jean Durston, 2007, Suzanne Heim-Bowen, 2007 and Ann Hirsch, 2017, and he has the distinction of being the first Coach ever to be inducted into the Masters International Swimming Hall of Fame.
"For 40 years, all it's been for me is giving back as much as I've gotten," O'Brien says. "It's all about giving back into those things that have fed me for so long. I've been so fortunate and so blessed with the opportunity I've been given, the relationships I've built over the long years."