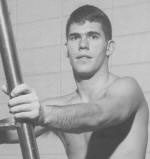 Ken Sitzberger (USA)
Honor Diver (1994)
The information on this page was written the year of their induction.
FOR THE RECORD: 1964 OLYMPIC GAMES: gold (3m springboard); 1963 PAN AMERICAN GAMES: bronze (3m springboard); 3 U.S. NATIONAL CHAMPIONSHIPS, (1m, 3m springboard); 5 NCAA CHAMPIONSHIPS.
He was charming, smart, handsome and a magnificent competitor. An Iowa native who grew up in River Forest, Illinois, he began diving at age six under Jerry Darda who coached him through high school. He was an All American High School diver from 1961 to 1963, and by the time he finished high school, he was a six time national AAU finalist.
At age 18, Ken Sitzberger won a bronze in the 1963 Pan American Games. That same year he won both the three and one meter springboard U.S. National AAU Championships. He was primed for the event of his life–the 1964 Olympics.
"We went out for a sandwich after the trials," Darda recalled. "Kenny said right-out: 'I'm gong to win the gold medal.' I didn't want to ruin his confidence, but I asked him how he could be sure. He had barely made the team and missed fourth by only five points. But Kenny had analyzed the whole thing, the strengths and weaknesses of the other divers who were ranked one, two, three in the world – they were his competition – and he knew they'd all be going to training camp for a few weeks before the Olympics. He told me 'Those guys are going to see me in training camp and that's going to help me. They're going to feel a lot of extra pressure after they see me dive every day. They're going to realize I just don't miss.'"
And miss he didn't. Strong, powerful diving. Controlled, efficient and fundamentally perfect rather than stylish. Sitzberger didn't miss and won the Olympic gold with a score of 159.90.
At the University of Indiana, coached by Hall of Famer Hobie Billingsley, Ken continued to win after his gold. "Ken was highly competitive. Whenever he saw a challenge, he just went for it." If IU needed a superior performance, Ken always came through for us. He won a total of five NCAA Championships – the one meter in 1965-67 and the three meter in 1965 and '67. He was named a Big Ten Scholar Athlete in '67.
His wife Jeanne, an Olympic silver medalist at the 1964 Games says, "Whatever he did, he gave it all he had. That's something he instilled in all our kids." Ken was a sports color commentator for ABC for more than 16 years until his tragic death at age 38. His magnificent diving will be hallowed as his actual Olympic dive sheet and gold medal are on display at the Hall of Fame.