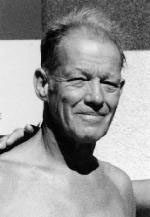 Kelley Lemmon (USA)
Honor Masters Swimmer (1999)
The information on this page was written the year of their induction.
FOR THE RECORD: 24 WORLD AGE GROUP RECORDS: (14 long course, 10 short course meters); 62 NATIONAL AGE GROUP RECORDS: 13 long course, 11 short course meters, 38 short course yards); 66 NATIONAL USMS TITLES.
Kelley Lemmon was born at Fort McKinley, Maine in 1912. He began his swimming career in Wilmington, DE at the age of 13. Because he was the son of a military professional and was always on the move, he swam for three different high schools in Hampton, Virginia; Detroit, Michigan; and Los Angeles, California. In 1931, he took part in the Silver Gate Swim in San Diego, where he competed against Reg Richardson (master swimmer, deceased), Austin Clapp, and Buster Crabbe. He attended the United States Military Academy at West Point, graduating in 1937. During his swimming career, he competed as both a sprint freestyler and a diver, and served as the team captain in his senior year at West Point.
Kelley served in the United States Army from 1937 until 1970, when he retired as a Major General after 40 years of service. During World War II, he served in the European Theater. One of his favorite war stories involves swimming. His battalion was to cross the Seine River in the Fontainbleau Forest, France, but when they got to the river, they saw the Germans had blown up the only bridge. On the far side however there were five rowboats tied to the bank. Kelley swam across the Seine, untied the boats and pulled all five of them back across the river, while the Germans shot at him (but fortunately not very accurately). For his effort, Kelley was awarded the Distinguished Service Cross by General George Patton. Of course, he gives credit to his swimming career.
Kelley started swimming in the masters program in 1979, but soon learned he had prostate cancer. He underwent surgery in late 1979, but was back in the water soon after and began competing again in 1980. He went to his first National Championship in 1980 at Fort Lauderdale, Florida. The rest is history. It is noteworthy that Kelley set a national and world record in the 50 meter freestyle long course in 1984 – his time, at the age of 72, was 29.35 – a record which still stands today after almost 15 years.
Since starting the program, he has set 24 world age group Records and set 62 national records, 13 long course and 49 short course. He has won 66 National Championships in all events but backstroke. At age 87 his life is a testament to the perils of Masters Swimming.