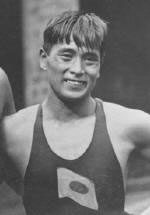 Katsuo Takaishi (JPN)
Honor Pioneer Swimmer (1991)
The information on this page was written the year of their induction.
FOR THE RECORD: OLYMPIC GAMES: 1924 5th place (100m, 1500m freestyle), 4th place (800m freestyle relay); 1928 bronze (100m freestyle), silver (relay); AUTHOR: Swimming in Japan, (1935); First Asian to win an Olympic medal in swimming.
Katsuo Takaishi was the first great swimmer to emerge from Japan and the first Asian swimmer to win an Olympic medal. In the Amsterdam 1928 Olympics, he finished a close third to Hall of Famers Johnny Weissmuller (USA) and Istvan Barany (HUN) to win the bronze medal in the 100 meter freestyle and capture the silver as a member of the 800 meter freestyle relay.
It all began in 1923 at the Asian Games in his hometown of Osaka where he won first place in all three freestyle events in which he competed. The following year he attended the 1924 Paris Olympics where he "finaled" fifth in the 100 meter Free, fifth in the 1500 Free, and fourth in the 800 Free relay. Prior to this, no other Asian swimmer had ever placed in an Olympic event. Between the Games of 1924 and 1928, he won every international competition he entered, except when competing against Weissmuller. He was selected captain of the 1928 Japan Olympic team.
Takaishi continued swimming and in 1931, competed in the first USA vs. Japan swimming competition in Tokyo. In 1932, he was captain and coach of the Japanese Olympic team, which won every event but one.
Takaishi's book, Swimming In Japan, written in 1935, was highly acclaimed as a masterpiece of Japanese swimming. He loved the sport and served in many administrative positions. In 1961 he was elected President of the Amateur Swimming Federation of Japan. He never stopped teaching and coaching. Katsuo attended the 1964 Olympic Games as the Japanese team's General Manager.
Katsuo Takaishi died of lung cancer at the age of 60, but not before achieving his government's highest award, "Shiju Hosho".