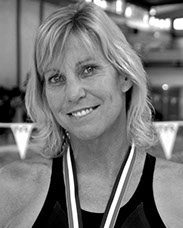 Karlyn Pipes (USA)
Honor Masters Swimmer (2015)
The information on this page was written the year of their induction.
FOR THE RECORD: Masters Swimming: WORLD POINTS – 4133, PRE-1986 POINTS – 0, TOTAL POINTS – 4133; SINCE 1987, SHE HAS COMPETED IN SIX AGE GROUPS: 25-29 THRU 50-54; 203 FINA MASTERS WORLD RECORDS.
She learned to swim at the age of four, competed in her first race for the Lompoc (California) Marlins at age six. She even tackled open water swimming before she was 10. By the time she was 15, she was a Junior National Champion, swimming under Coach Mike Troy at the Coronado Navy Swim Association in San Diego. But Karlyn Pipes did not really come into her own until she became a Masters swimmer. Ever her own woman, Karlyn did it her way: backwards. She got faster as she got older.
Karlyn had always been blessed with speed, strength and a natural feel for the water, but the rap on her was that she had lacked the self- discipline and the fire-in-the-belly-desire so essential to ultimate swimming success.
She forfeited her full-ride scholarship to the University of Arkansas, lost one job after another which she now describes as "a bad lifestyle." That's when she decided to turn her life around. As it had been when she was a teen, swimming became her focus again. Only this time she signed up to be a Masters swimmer.
She was a winner right from the start. In 1993, her first year of Masters competition, she ranked first in the U.S. in seven events. Then she got faster. A few years later, she set a unique challenge for herself: to rank first in the nation in every event in her age group, in all three official courses: 25 yards, 25 meters and 50 meters. That's a total of 53 events. And she would be swimming against the very best specialists in every stroke, many of them Olympic medalists.
She did it! 53 events, 53 number one rankings. Match that, Michael Phelps!
Now, having swum in Masters for more than two decades, Karlyn has set more Masters records – national and world – than any other Masters swimmer on the planet, man or woman. At last count her world record tally stood at 223.
In 1995, Karlyn married Eric Neilsen, a water-polo-player- turned-triathlete-turned Masters swimmer, and also decided to go back to college and earn her degree. She started her college swimming career at Palomar Junior College and then continued on to Cal State Bakersfield, where she graduated with a BS in Communication in 1999. While in college, Karlyn became the oldest athlete to set an NCAA record. Her Division-II mark in the 200 yard backstroke, 2:0 0.54, lasted from 1998 to 2001. She was also an eight-time Division- II All-American and was named "Female Masters Swimmer of the Year" three times by SWIM Magazine.
She credits her collegiate success to coaches Patti Waterman and Scott Lawson at Palomar, and Pat Skehan at Cal State Bakersfield, especially for taking what she calls "a huge chance on her." But her biggest accolades are reserved for her ex-husband. Although they are now amicably divorced, Eric was her coach, mentor, partner, and friend for fourteen years.
Karlyn is currently an inspirational speaker and swim clinician. Her company, Aquatic Edge, located in Kona, Hawaii, offers swim clinics, swim camps, adventure swims and private instruction. She travels the world competing, teaching, speaking and motivating swimmers from ages 8 to 80.