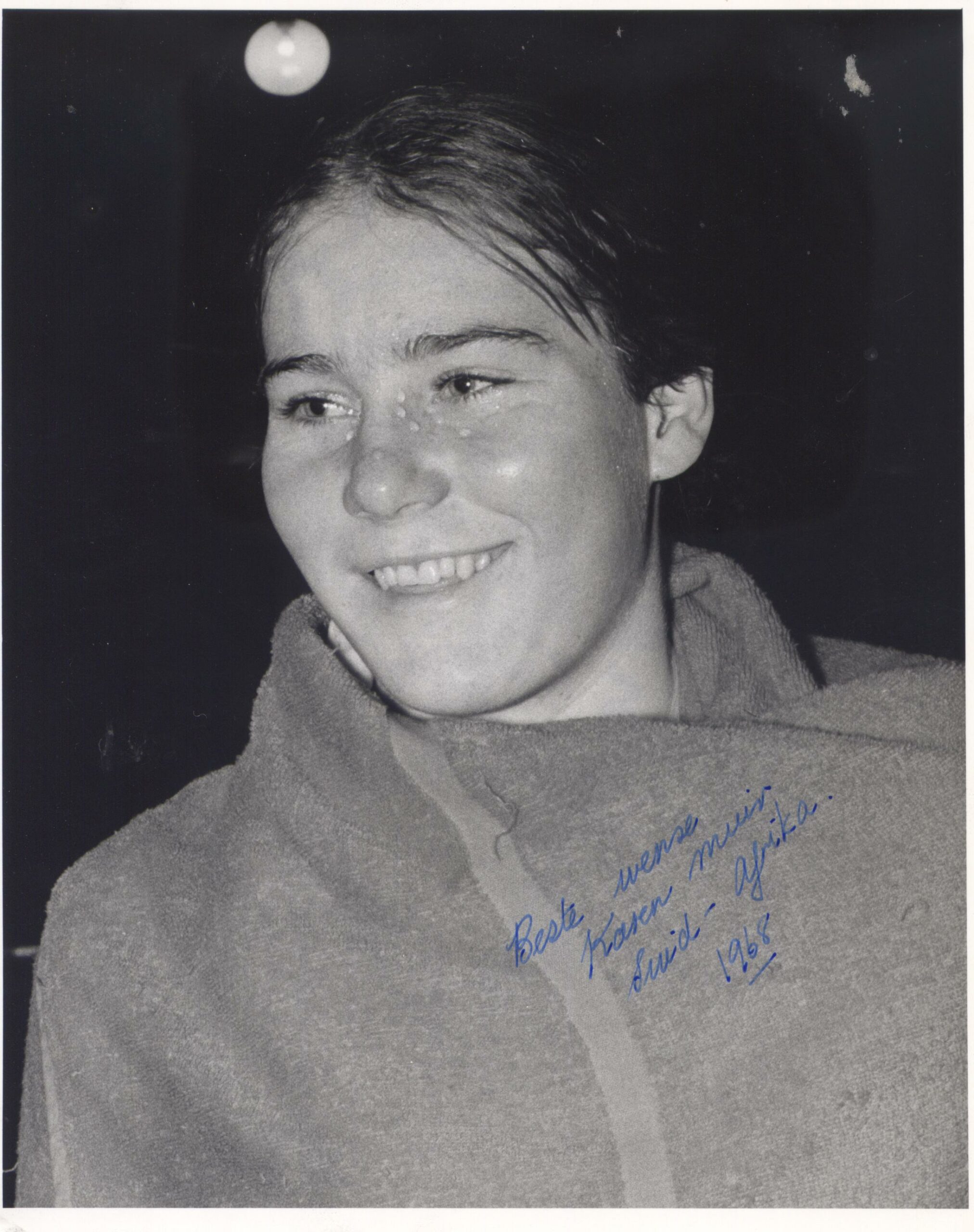 Karen Muir (RSA)
Honor Swimmer (1980)
The information on this page was written the year of their induction.
FOR THE RECORD: WORLD RECORDS: 15 (100m, 200m 110yd, 220yd backstroke) from 1965 to 1969; The youngest competitor to break a world record (110yd backstroke, Aug. 10, 1965 at age 12); SOUTH AFRICAN CHAMPIONSHIPS: 22 (freestyle, backstroke, individual medley); SOUTH AFRICAN RECORDS: 15; U.S. NATIONAL CHAMPIONSHIPS: 3 (100m, 200m backstroke).
The youngest world record holder any time in any sport was South Africa's Karen Muir who knocked seven-tenths of a second off Linda Ludgrove's 110 yd. backstroke world record in England at the A.S.A. National Jr. Championships on the 10th of August, 1965. Karen's age was 12 years, 10 months, 25 days. Between 1965 and 1969 she was world queen of the backstroke and her 100 meter world record was not broken until 1973, yet ironically the 15-times world record holder was never in an Olympic final due to the Olympic boycott of her native South Africa. Although isolated in her training thousands of miles from most of her competition, Karen went on the road adding national championships in the United States and Great Britain to her 15 South African titles. Coincidentally South Africa's only Olympic gold medalist in swimming was also a lady backstroker, Joan Harrison, who won her Olympic title the year Karen was born (1952). At the beginning of her career Karen shared backstroke world records with Ann Fairlie, another South African who was not allowed in the Olympics. Karen Muir DeGraad and her husband are now doctors practicing in the African interior.